Exclusive
Kate Gosselin Joining Class-Action Lawsuit Against Her Attackers In Anti-Bullying Controversy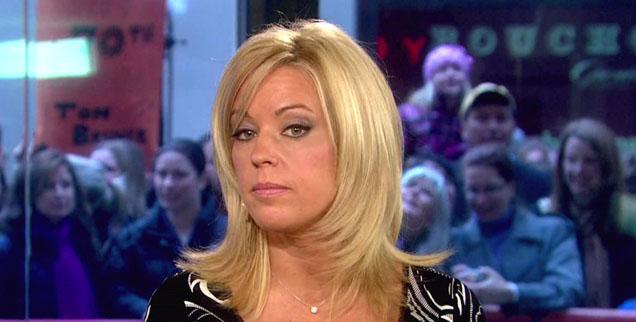 Article continues below advertisement
James McGibney, who runs the BullyVille website, has outed several of Kate's attackers and announced the lawsuit earlier, citing "death threats, pedophilia claims, theft & documented stalking." McGibney has posted the real identities of several Kate attackers this week on a third-party website.
Hours after McGibney announced the lawsuit, Kate voiced strong support for it with this tweet:
"FYI: I am in favor of any legal actions to stop all forms of bullying--including death threats and stalking--and if it that requires a court room setting involving a class action law suit, I support it. As always, I will do whatever it takes to keep my family safe." Kate has previously encouraged exposing the real identities of those she believes have bullied her.
McGibney provided RadarOnline.com with many disturbing online messages that he said will be included in the suit.
"OMG! A guy just came to my door, kicked my dog, said he's a Marine & that Bullyville paid him $500 to kill me," one person tweeted days ago, a clear reference to McGibney, a Marine.
Another message claimed McGibney was inciting his followers to kill people.
Fed-up with people he says crossed the line attacking Kate, McGibney began revealing the true identities of some of her detractors earlier this week, posting them on a third-party repository website. That move cause the twitterverse to explode with accusations, bitter and brutal exchanges, and more attacks on both Kate and McGibney.
Article continues below advertisement
"(One person) is accusing me of hiring people to kill her," McGibney told RadarOnline. "I'm going after these people. This lawsuit will be huge."
And while some accused him of using illegal means to get and post their real identities, McGibney provided what was almost a step-by-step guide on how he obtained their identities, posting that along with the information!
"We've done nothing illegal," he told RadarOnline.com. "We are very good researchers. To get the info was super easy."
He told RadarOnline.com that he was disgusted not only because he believes some people crossed the line attacking Kate but also because Kate's online supporters were also viciously attacked by her detractors.
"Anyone who says something positive about Kate, they slam them," he said, relaying an incident where a mother with a 33-year-old severely disabled child was tormented and hounded.
McGibney announced his lawsuit with this message: "After seeing death threats, pedophilia claims, theft & documented stalking against @Kateplusmy8 & fans, we've decided to file a class action lawsuit against the main offenders. The evidence is overwhelming and the victims deserve justice."
Article continues below advertisement
Earlier, The TV mom, who re-tweeted RadarOnline.com's story on the matter Tuesday, took the high road in a tweet indirectly addressing the uproar, writing, "Thx 2 those of you who believe in and tweet goodness positivity,support&love 2 ALL! You make me smile & I'm happy 2 call u my friends! GN!"
McGibney previously told RadarOnline.com that law enforcement has been unsuccessful in dealing with the growing problem of dangerous online bullying.
Kate has encouraged people who defend her on social media to go after her attackers, having no qualms about her belief in stopping bullying.
"We go after notorious bullies," McGibney told us exclusively, saying the principle offenders he's gone after are "absolutely vicious to Kate."
"One person sent over 72,000 tweets to Kate and they are all absolutely vicious," he said. "Sometimes you have to be a bully to get a bully.
"Kids are driven to suicide by bullies, and we go after those bullies every day."