Controversy Exploding! Kate Gosselin Encourages Group Outing Real Identities Of Haters Who Bullied Her On Web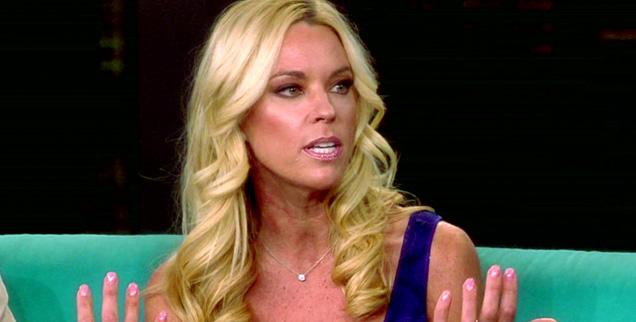 Kate Gosselin encouraged the discovery of the real identity of some people who threatened or expressed extreme hatred toward her on the Web, RadarOnline.com is reporting exclusively.
Always a controversial figure, Kate is now at the center of a new war -- one between anti-bully activists and harsh critics of the reality star.
James McGibney, head of bullyville.com, exposed the real identities of numerous alleged Kate haters on Monday in a move that caused a shockwave throughout the heavily populated pro-and anti-Kate camps. He also threatened to call the employers of the Kate bashers. (One person exposed was a senior citizen who is alleged to have sent Kate more than 72,000 tweets!)
Article continues below advertisement
Now the battle over Kate has reached a new, boundary-pushing level, and Kate is clearly aware of it, encouraging those who seek to protect her, as they reveal the identities of others they said had crossed the line attacking Kate.
Throughout Monday, as McGibney dumped the "real identities" of various Kate haters into a public repository Web site (seen by Radar), Kate retweeted messages from his group@Bullyville and also a @Radar_Online article chronicling the unmasking of alleged bullies.
She previously expressed strong support for BullyVille and others who sought to protect her by revealing "bullies." Some of Kate's tweets in support of her protectors include this:
"thanks for cleaning house,"
After BullyVille informed her he knew the name of the person who created something apparently threatening she also tweeted: "you're my Knight in shining Bully Proof Armor, like I've said before, many times : )"
Article continues below advertisement
And Kate recently tweeted in the midst of the controversy: "yes I proudly support all LEGAL means to bring bullies – who thought they could hide to light—on the internet or in school. @bullyville #stop"
But McGibney made it clear his actions were his own, and rejected the notion that Kate's encouragement meant she was ordering an operation against her enemies, telling Radar: "No one encourages me to do anything.....I'm a grown man who makes his own decisions. :-)"
When BullyVille exposed one person believed to be dangerous to Kate, she retweeted their message: "aka (name redacted by Radar), AGE 56, from (redacted by Radar) Texas. Do you think that your death threat references to @Kateplusmy8 are funny?"
He told Radar that the image below, showing Kate bloody and impaled, was a catalyst to start his Web operation to expose people he believes have crossed the line.
Article continues below advertisement
Kate has encouraged McGibney and his website for some time, as he uncovered the identity of her extreme haters, but McGibney tells Radar that she never asked him to do this and did not employ him in any way.
On Tuesday, the battle appeared to be growing hotter with McGibney and BullyVille pursuing more bullies.
Late Monday McGibeny he posted this message on another site where he was posting the idenity of the Kate haters:
"For the record: Bullyville is going after Kate Gosselin's bullies for specific death threats and over 100,000 slanderous and libelous posts."
And many posts seemed to approach if not cross that threshold, with one warning her to "Remember Selena" -- referencing the singer who was shot and killed by the president of her fan club.
But McGibney (and Kate) went too far, many complained, saying they were being bullied merely for expressing their anti-Kate feelings. Many in the anti-Kate camp complained that she directed people on her side to "take down" critics or bullies.
Article continues below advertisement
And one person "outed" by BullyVille as a Kate hater told Radar:
"He and bullyville put my name, address, phone number, my teen's email address on (Web site redacted). For what!? Not liking Kate G? Now bullyville is saying he is going to call employers. I don't know what he would say that would get me in trouble but I am a single mom living paycheck to paycheck and Bullyville and Kate G are the real bullies here.
"I never attacked, threatened or harrassed her."
Meanwhile, McGibney stressed to Radar that his primary goal is to out bullies who cross the line into dangerous, filling a void where local police and the FBI have not been effective.
"Going to the local police and FBI has proven ineffective for victims of bullying," McGibney told Radar.
He scoffed at the anti-Kate camp members who claimed to be victims of his bullying.
His opinion on their right to anonymity?
"They give up that right when they start tweeting vile hate and tweeted and retweeted images of Kate's death," McGibney told Radar. "They even used it as their....default thumbnail image. The fact that they're claiming they're being bullied is priceless, it truly is," he told Radar.