Kate Gosselin Keeping Mum On New Book Alleging Shocking Child Abuse Claims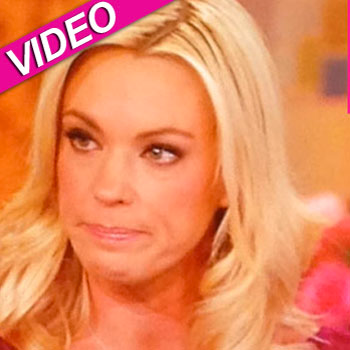 Article continues below advertisement
Meanwhile, Hoffman told RadarOnline.com he has in his possession "more explosive" material that he doesn't plan to publish…unless Kate's lawyers back off.
While being interviewed on Katie, Kate said when asked about the book: "I've honestly been advised not to say anything.
"There will come a time I can talk about it but right now I can't comment on it. It's in the hands of my lawyers."
When asked about all the criticism she got about her parenting skills on her reality show, Kate, 37, said: "I was a different person back then.
"But that show is as real as you're going to get. I just want to focus on my kids so I don't get much time to read that stuff. I hate bullies. I was bullied as a kid.
"I think they should use their time and energy to do better in the world, and for their families and their kids."
Kate, who started to cry at several points during the interview, also confessed she's not dating anyone – she's too busy – but that her kids are dying to set her up with someone.
MORE ON:
hollywood happenings
Article continues below advertisement
"I don't have time to date but it comes up at dinner almost every night!" She told Couric. "My daughter said 'it gets really boring with just you here every night.'
"But I said it's not something you can just go out and buy in a shop."
Kate, who has sextuplets aged eight and twins almost 12, also said that a reality dating show could be on the cards for her.
She said: "I think it could be really fun. And honestly, I think I could do it."
Vitriolic Book About Kate Gosselin Written By Jon's Pal Removed From Sale After Legal Threats