Exclusive
Kate Gosselin Reported To Child Protective Services By Jon Gosselin Pal Who Wrote New Book That Slams Her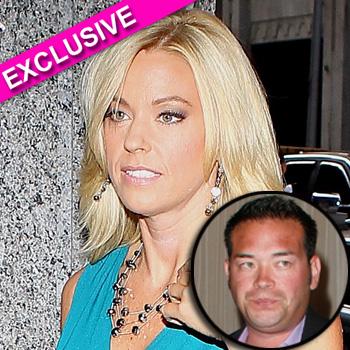 Article continues below advertisement
Hoffman says he has Kate's personal journal, emails, contracts, tax returns and more, all gathered (he says) from computer hard drives he retrieved from her trash.
And those journals, Hoffman alleges, reveal that Kate has been violent toward her children. Many of his allegations cannot be repeated by RadarOnline.com as they are potentially libelous and lack independent substantiation.
In an email interview, Hoffman told RadarOnline.com that he has reported Kate to the authorities for the sake of her children.
"I personally contacted Child Protection Services (sic) twice in 2010 when I found the journal," Hoffman wrote in response to questions sent to him by RadarOnline.com's founder and Managing Editor David Perel. "I sent them copies of what I had and they told me they would look into it and that's the last I heard. I've tried to talk to Kate several times in 2010 but she wouldn't acknowledge my existence."
Hoffman's book has stoked the Jon versus Kate debate yet again and takes anti-Kate fervor to new heights as he alleges that she is out of control and repeats old charges of her fanatical freebie-seeking behavior.
Article continues below advertisement
His most incendiary charges concern her interaction with the children and her "personal journal" that he quotes from contains admissions of behavior that include spanking the children with a spoon and worse.
In his book, Hoffman claims to have spoken to hundreds of people, and he told RadarOnline.com in the email interview: "My sources include former crew members who witnessed" the alleged behavior toward the children that caused him to call authorities.
He also told RadarOnline.com: "I've been told that there is much footage of this (behavior) that obviously never saw the light of day."
Meanwhile powerhouse law firms Lavely and Singer of Los Angeles and Williams and Connolly of Washington, D.C. apparently caused Amazon to remove Hoffman's book from sale. The book reproduces in whole what appears to be network contracts, personal emails and other copyrighted material.
Article continues below advertisement
William and Connolly, representing TLC and its parent network, alleges the book contains confidential information. Hoffman has acknowledged that Amazon has removed the book pending an investigation, and he is asking the public for donations.
He worked as a freelance reporter for Us Weekly during the height of Jon and Kate Plus 8 fever, and while his e-book is a deadly dull read, if the personal journal of Kate is genuine, it contains damning and shocking admissions regarding her parenting.
RadarOnline.com has not independently verified the journal is genuine.
Hoffman says in the book that Jon Gosselin is his good friend, but he did not answer RadarOnline.com's direct question about when Jon learned he had obtained possession of the computer material and Kate's journal.
He did, however, write that he has not spoken to Jon since the book first appeared on Amazon. "I haven't spoken to Jon yet regarding the book, so I'm not sure what his reaction is," Hoffman told RadarOnline.com. "I haven't been able to reach him,"
Article continues below advertisement
Hoffman also told RadarOnline.com that with a legal battle now being waged his book distribution plans are on hold.
"I can tell you that I respect the legal system and won't be distributing the book outside of Amazon unless it is cleared by the lawyers and Amazon first," Hoffman told RadarOnline.com in the written interview. "The last thing I want to do is break any laws, and it has yet to be determined if that has been the case.
"I can tell you that all of my information regarding Kate Gosselin used in the book was obtained by me personally through completely legal means."
Hoffman also insists that his material form Kate's computer is genuine and told RadarOnline.com, "anyone with basic knowledge of computers can look at the discs and see when they were created and if they were ever modified in any way.
"The book contains about ten percent of what was found in the computer files. There is so much more that hasn't been revealed. I also have physical and photographic evidence to back up my claims in the book."