Exclusive
Jon Gosselin's Pal Threatens To Release More Damaging Info About Kate, Including Photos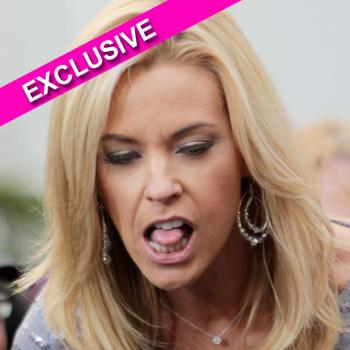 Article continues below advertisement
EXCLUSIVE VIDEO INTERVIEW: Kate's Brother & Sister In Law Attack Her
As previously reported, Amazon removed Hoffman's e-book after two days when two law firms intervened, alleging violations of copyright and trade secrets. Hoffman says he is in possession of Kate's computer hard drives and admits he pulled them from her trash.
His material includes what purports to be her personal journal, emails, photographs, tax returns and contracts, much of which is reproduced word for word in the now-banned book.
PHOTO SHOCKER: Did Kate Gosselin Spank Her Children With This Spoon
The most incendiary allegations cannot be repeated on RadarOnline.com as they lack independent corroboration, but they paint her as violent toward her children and offer shocking and disturbing "quotes" from her journal. Hoffman also alleges she spanked her children with a wooden spoon.
But now Hoffman tells RadarOnline.com that there is even more explosive material and he is ready to use it.
Article continues below advertisement
In an email interview, Hoffman first said he would not publish the information but then detailed how he would make it public.
"The other 90 percent of the material that I possess will not be published, ever, but you can be sure that if I'm falsely accused of anything and drug (sic) into court, or called a liar by Kate Gosselin or her lawyers, this information will come out then, including photographs," Hoffman wrote to RadarOnline.com.
"There is so much more that hasn't been revealed. I also have physical and photographic evidence to back up my claims in the book."
Hoffman's book has reignited the endless Jon versus Kate debate and he makes it clear in the book that he is Jon's friend.
Jon has remained publicly silent on the book and its allegations, many of which are well known, including Kate's freebie-grabbing mania, her boorish and ugly behavior to many and her endless thirst for fame.
Article continues below advertisement
But it is Hoffman's charges about Kate's interaction with her children that are most damaging. Asked by RadarOnline.com when Jon knew that Hoffman possessed his material and what his reaction was to the charges, Hoffman did not answer directly.
He is continuing his attack on Kate via the web, taking her to task over what he describes as lack of originality and honesty because her 2008 book Multiple Blessings is similar in title and theme to a book published 14 years earlier.
Hoffman was a freelance reporter for Us Weekly covering Jon and Kate on a daily basis during the height of their popularity on TLC's Jon & Kate Plus 8.
Now the high-powered Los Angeles law firm Lavely and Singer plus nationally renowned firm Williams & Connolly have stepped in to oppose him and succeeded in getting Amazon to remove the e-book for now.
Hoffman writes in the book that he expects to be sued and told RadarOnline.com in the written interview: "I have a great deal of respect for Williams & Connolly, having been in the courtroom watching them in action in the past.
Article continues below advertisement
"I'm also a big fan of Marty Singer and Lavely & Singer and I'm aware of their skills and what they're able to do for their clients.
"I wish they were on my side of this situation."
If the legal battle progresses it is likely that Jon will be brought into it as well. Hoffman told RadarOnline.com that his friend did not help him obtain the computer hard drives from the trash.
"Regarding Jon, as stated clearly in the book, he had absolutely nothing to do with personally giving me any information whatsoever for the book," Hoffman wrote to RadarOnline.com.
Kate Gosselin's Wooden Spoon Spankings Criticized By Child Abuse Group