Exclusive
Kate Gosselin Strikes Back! Dragging Jon To Court, She Wants Him Jailed Over Tell-All Book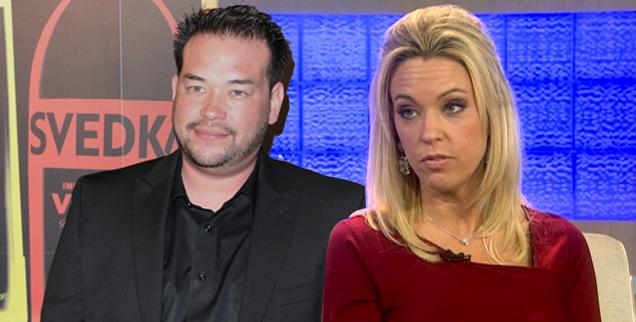 Kate Gosselin believes her ex-husband and father of her eight children, Jon Gosselin, is to blame for the bombshell tell-all that (sort of) hit shelves last fall, and RadarOnline.com has exclusively learned the 37-year-old single mom has been trying to put together a lawsuit against him that would not only take away his rights to see the children, but could land him in jail!
"Jon was notified recently of Kate's intentions to file a lawsuit against him, but the whole thing is ridiculous," a source close to the situation tells Radar.
Article continues below advertisement
"Kate has been shopping her lawsuit around to various law firms, but no one is interested in taking her on because she has no actual evidence to support her case!"
According to the insider, Kate is convinced that Jon gave author Robert Hoffman the computer hard drive that had all her private journals on it and were used in the malicious tell-all book, and she's determined to find witnesses that will testify for her.
"Kate is desperate to find witnesses who will take the stand and testify against Jon," the insider reveals.
"But so far she's having no luck. Anyone Kate has approached is hesitant because they don't really want to be attached to the Gosselin name and in turn be dragged through the mud themselves."
The source claims Jon is well aware of what Kate is trying to do and knows she's going after anyone who knew him during the time they were splitting -- and anyone who he might have confessed his many grievances to.
Article continues below advertisement
"As far as Jon is concerned, he knows Kate will make promises to potential witnesses, saying what they want to hear just so she can get them up on the stand and get what she wants. No one knows firsthand more about how manipulative she can be than Jon," the source tells Radar.
"But Kate is having a really hard time finding a law firm that will actually take on her case, because right now she doesn't have enough evidence.
"And it's not like Kate just wants to sue Jon to make sure the book never goes public again, she wants to see Jon in jail! She'll even use the kid card to try to get witnesses."
RadarOnline.com has learned Kate's case remains in the foundation phase while she attempts to reign in witnesses.
"Kate doesn't want the public learning things about her that she's so desperately tried to hide!" the source says. "Jon wouldn't be surprised if she tried to subpoena or depose certain witnesses that she thinks are crucial to her case, but have refused to testify on her behalf."