Hulk Hogan Files $100 Million Lawsuit Over Leaked Sex Tape!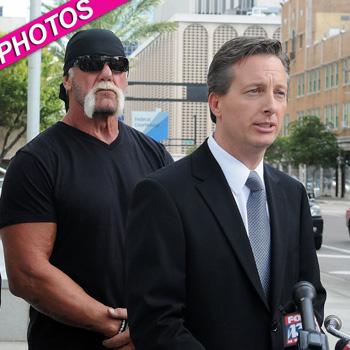 Hulk Hogan is suing mad over the humiliating sex tape that surfaced recently — filing a $100 million lawsuit against Gawker, who published a clip of the tape, and a lawsuit against his sex tape partner, Heather Clem, and her then-husband, DJ, Bubba the Love Sponge.
Hogan, real name Terry Bollea, stated in his filings that he did not know he was being secretly filmed when he had consensual sex with Clem six years ago in her home. And claims the video caused "severe and irreparable injury which cannot be adequately compensated by monetary damages."
Article continues below advertisement
"Mr. Hogan had a reasonable expectation of his privacy, just as all Americans have a reasonable expectation of their privacy in their bedrooms," Hogan's attorney Charles Harder said.
Meanwhile, Clem's attorney, Stephen Diaco, maintains that his client was not behind the release of the tape, "I can't comment on the suit. This has caused harm to Bubba and he didn't release it, he didn't condone the release of it. He wants to find out who did that and he wants that person to be held accountable," he said outside court Monday.
As RadarOnline.com exclusively revealed, it was a disgruntled former employee of Bubba's who was behind the release of the footage.
A source close to the situation claims that after Bubba left his gig with Sirius XM Radio, he also left behind an unpaid staff -- who he had shared the sex tape with -- and one of them took advantage.
"Even though Bubba knew how much the Hulk sex tape would be worth, he didn't stab his friend in the back and he's not the one who released it," the source said.