Exclusive
Kate Gosselin Strikes Back: Author Who Criticized Her Has All His Posts Wiped Off The Web!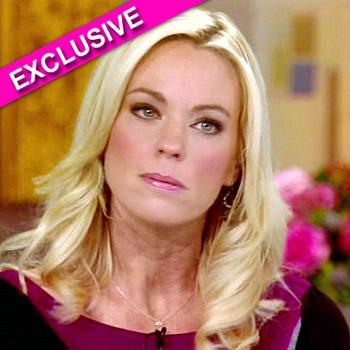 Article continues below advertisement
Hoffman had previously been silenced by two top law firms who succeeded in getting Amazon to remove his e-book from sale. The book contains reams of material found on Kate's computer hard drive, which Hoffman told RadarOnline.com he obtained from her trash.
In recent weeks, he has charged that she has been physically violent toward her children, detailed her seemingly endless quest for free products, accused her of using her children to achieve personal fame, stated flat out that Jon Gosselin — his friend — is the better parent, and admitted to calling Child Protective Services on the mom of eight.
Now all of the material on his web site has been removed and Hoffman tells RadarOnline.com, "…it would appear that the lawyers are at it again."
He revealed he received this message at the top of his account page: "We have received a DMCA complaint for one or more of your blogs. Emails with the details were sent to you and all affected posts have been reset to "Draft" status (you may find them by selecting "Drafts" on the "Edit posts" page for each of the affected blogs). You may re-publish the posts with the offending content and/or link(s) removed. If you believe you have the rights to post this content, you can file a counter-claim with us."
Article continues below advertisement
Hoffman says he never received any emails from Google or any other entity. The email directed him to Google's policy on removing content.
The prestigious Washington, D.C. law firm of Williams & Connolly has represented TLC's parent company Discovery in the legal fray over the e-book and the top-not LA firm Lavely & Singer also teamed up against Hoffman and is believed to be representing Kate.
It seems that one of the firms went around Hoffman -- after putting him on notice -- and succeeded in having his material officially removed for now.