Kate Gosselin Swapped Families With Kendra Wilkinson; Traumatized Kids, Claims Author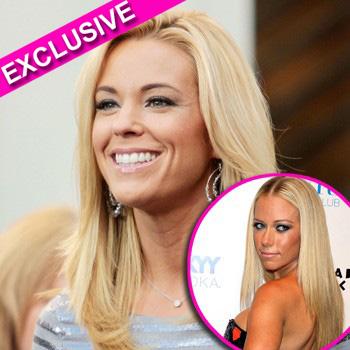 Kate Gosselin has once again proven she's not exactly the mother of the year, according to author Robert Hoffman, who famously wrote a controversial 'anti-Kate' e-book, Kate Gosselin: How She Fooled The World, only to have it pulled off Amazon two days later after a legal challenge from two powerful law firms.
In a blistering new blog posted Wednesday, Hoffman, a reporter who's also a pal of Kate's ex Jon Gosselin, claims sources told him that the former reality TV star turned Dancing with the Stars contestant "left her eight children alone with Kendra Wilkinson, who formed a company to market her own sex tape, as well as a strange camera crew and a college-age babysitter (Ashley), for a week while she went off with her own personal babysitter to film an episode of a new reality show tentatively called 'Mom Swap.'"
Article continues below advertisement
Hoffman goes on to charge that "the Gosselin children were scared and very confused, having no idea who their new mom-for-a-week was, or why they were left alone with her to be filmed by strangers."
Hoffman maintains that the kids were only told that the former Playboy hottie was on Dancing with the Stars, like their mom. He also claims the kids "were instructed not to speak a word about it to anyone at school or anywhere else."
The author ends his blog by saying, "I'm not sure how much more psychological damage Kate can do to these poor children, but she sure looks like she's willing to sink to new depths to get her face back on television."
As RadarOnline.com was first to report, in his e-book, Kate Gosselin: How She Fooled The World, Hoffman casts Kate in an extremely negative light and even accused her of hitting the kids with a wooden spoon.
Article continues below advertisement
Hoffman previously told RadarOnline.com that he has Kate's personal journal, emails, contracts, tax returns and more, all gathered (he says) from computer hard drives he retrieved from her trash. And those journals, Hoffman alleges, reveal that Kate has been violent toward her children.
Many of his allegations cannot be repeated by RadarOnline.com as they are potentially libelous and lack independent substantiation.