Exclusive
Tia Maria Torres Slams Kate Gosselin, 'She Should Know Better Than Anyone What It's Like To Be Vilified!'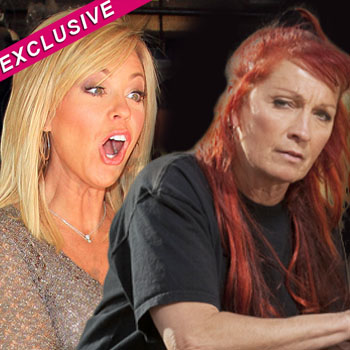 Article continues below advertisement
Torres, 52, thinks Kate is just misinformed and asks why would the Jon & Kate Plus 8 star say such vicious things about a breed of dog she knows nothing about?
"Kate should know better than anyone what it's like to be vilified, what it's like for people to say untruths about you," Torres exclusively told RadarOnline.com.
"She clearly knows nothing about pit bulls to say such nonsense about the breed. They are very loving, very protective and gentle around children. I want to thank Jon's girlfriend for posting the picture online of the kids cuddling up to the pit bulls because it's that sort of awareness that educates people better on the breed.
"I would also like to know if Kate has had any personal experiences with pit bulls that she believes she is the authority on their behavior.
"Many celebrities have pit bulls, including Jennifer Aniston and Jessica Biel and they wouldn't see anything wrong with having babies and keeping their dogs.
"Kate needs to be educated on the breed. I'm going to send her some DVDs that will hopefully change her opinion," Tia revealed.
Article continues below advertisement
As RadarOnline.com previously reported, Jon's new lady Liz Jannetta posted photos of Jon and Kate's children nuzzling with her pit bull dogs.
"The most pure and genuine kind of love & affection," Jannetta tweeted.
The photo immediately sparked outrage among some of her followers because of the dog's stereotype of being aggressive and unsafe around children, so Liz followed up by saying, "My kids r around pitbulls every day.. Frm Dobies, to German Shepherds to Rottweiler, now Pits- the desire 2 blame wil nvr fade."