The Kardashians Given Open Invite To Work With Rescued Pit Bulls!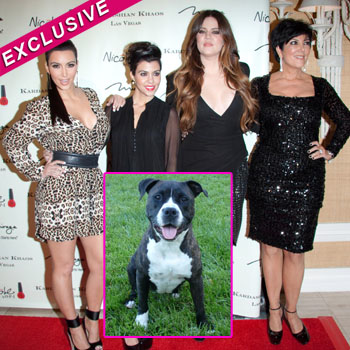 Pit Bulls & Parolees host Tia Maria Torres has issued an open invitation to the Kardashians to volunteer at her animal sanctuary, RadarOnline.com is exclusively reporting.
Torres, 52, believes the famous reality TV family may be misinformed when it comes to acquiring a new family pet and if they had an opportunity to work first hand at her New Orleans sanctuary they would realize they don't have to buy puppies from upscale pet stores who support puppy mills.
Article continues below advertisement
Kim Kardashian's latest acquisition, a Teacup Persian Kitten called 'Mercy,' forced Torres to spring to action and throw down the gauntlet.
"They just don't know better," Torres exclusively told RadarOnline.com.
"I would love to invite the Kardashians to our rescue so I can teach them how they can help me spread the word about rescuing an animal, as opposed to supporting puppy mill puppies.
"There are many people who think the only way to get a nice dog or cat is through pet stores and breeders, but that's just not true.
"There is a rescue for every breed of dog and cat, including Persian cats and these are animals that have been discarded by their owners for various reasons.
"If we had a family of like the Kardashians involved they could spread the word that rescuing animals is so important," Torres explained.
Like an episode of Nicole Richie and Paris Hilton's Simple Life, the Kardashians would be expected to perform tasks that they wouldn't do in everyday life.
Article continues below advertisement
"The day begins at 8 a.m. when we feed over 200 dogs. Then we clean kennels, scrub water buckets and dog houses, do dog laundry and obviously have to take them on long walks," Torres said.
reporting.
"We get thousands of e-mails a month from people looking to either adopt a dog or relinguish a dog and/or litters of puppies. We also get an average of 150 calls a day, so they would have their work cut out.
"Despite having our own reality TV show we don't make enough to make ends meet. Anything we make goes straight back into our non-profit in order to keep our doors open for the dogs and the parolees that work for us.
"So, this means that my kids also have to work extra jobs just to be able to pay their bills and they all work for me during the day.
Despite the heavy workload, Torres believes the Kardashians would benefit from volunteering at her animal sanctuary.
Article continues below advertisement
"Hard work is a good thing. It makes for a strong body and an even stronger mind and you need both to survive in this tough world," Torres said.
"We would love to ask the Kardashian family to help us make more people aware of the pet over population problem.
Kim Kardashian Says Her Bikini Shot Isn't Photoshopped!
"Though they come from the other side of the tracks, like them, we are both strong families that protect one another.