'Kourtney & Kim' Filming Has Neighbors At War In Miami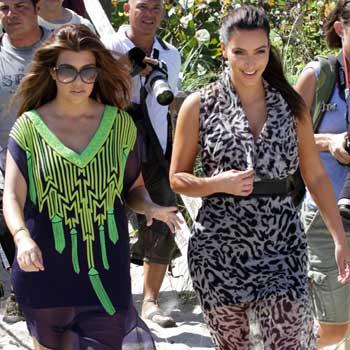 Two weeks into shooting the new season of Kourtney & Kim Take Miami, it's neighbor-on-neighbor war in the quiet neighborhood where the show is based.
Residents of San Souci in North Miami agreed to allow producers of the E! reality show to shoot for three months at a mansion they rented to be the home of Kim and Kourtney Kardashian, at a cost of $300,000.
But now one resident of the gated community, a real estate agent, isn't letting the crew park in front of his house and wanted to charge them $500 a day to park in an empty lot he's representing for sale.
Article continues below advertisement
"That's extortion. There is street parking here," San Souci Home Owners Association VP Richard Otero told the South Florida website, Gossip Extra.
"I merely called the producers to tell them they couldn't park in front of my driveway and proposed that they park on the empty lot," said Jeff Tomlinson. "For that, they'd have to pay since I control the property on behalf of a client."
The cops were actually called in to settle the dispute!