Exclusive
Kris Jenner Pushing Hard For Kim and Kourtney Kardashian To Get Hosting Gigs!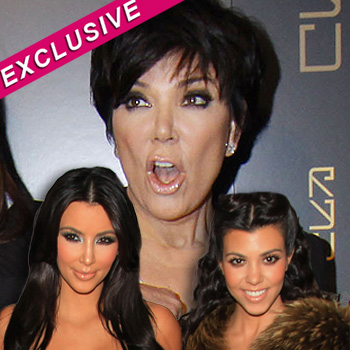 Article continues below advertisement
She believes Kim, 31, would be ideal for a reality show like America's Next Top Model, while Kourtney, 33, could be perfect for a show like Project Runway.
"With Khloe getting her dream job as an X Factor host, Kris thinks anything is possible now," a source close to the family revealed.
"Kris thinks that Kim and Kourtney can benefit from Khloe's luck and is desperate for them to go off on their own and appear in other shows.
"As soon as the contract was signed, Kris immediately got on the phone to various TV production companies to find out if there was something that Kim and Kourtney could work on.
"Because Kourtney was more prominently involved with working on their Dash clothing label, Kris believes she should be on a show like Project Runway.
"Kim is great in front of the camera, has lots of experience modeling and doing fashion shoots, so Kris is desperate for her to get involved as a judge on a show like America's Next Top Model.
Article continues below advertisement