Kardashians Banned From Living And Filming In South Beach By Neighbors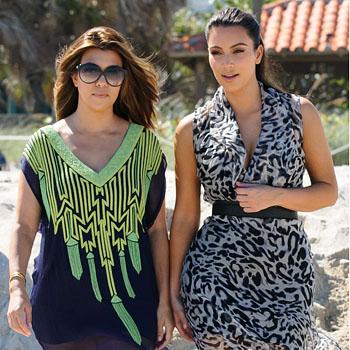 Filming has begun as Kourtney & Kim Take Miami -– but this time they won't be living anywhere near glamorous South Beach!
According to Belle Isle Blog, the Kardashian's hopes of renting a beach home on the Sunset Islands, DiLidi Island and on North Bay Road were blocked by irate neighbors who didn't want the hassle of having the reality-TV stars on their doorstep.
The family needed signatures from immediate neighbors of the prospective homes they wanted to use for a three-month period of non-stop filming – and a support of 90 percent of homeowners within 500 feet.
Article continues below advertisement
However, most residents kicked up a stink – complaining that the film crews and paparazzi would prove a disruption to their normally tranquil neighborhoods.
It has meant that Kourtney, Kim and Khloe – who has been filming with her older sisters – have had to settle for a base nearly 14 miles away from trendy South Beach in gloomy North Miami Beach.
"They found a gated community in North Miami Beach," Raul Gonzalez of Miami Beach's Office of Film and Print confirmed.
But despite their abode being in a desirable gated community, RadarOnline.com has learned the area the 51,000 square-feet property is far from safe.
"The area is known for its hourly hotels, strip clubs and high crime rate," a source revealed.
"It's a far-cry from their usual posh digs, with just a 7-Eleven and an abandoned old bank close by."
On Wednesday, filming for Kourtney & Kim Take Miami got underway – with the two protagonists taking the eldest sister's kids, Mason and Penelope to the Wizard of Oz interactive exhibit at the Miami Children's museum.