Kanye West Loses It After He & Kim Kardashian Bump Into Reggie Bush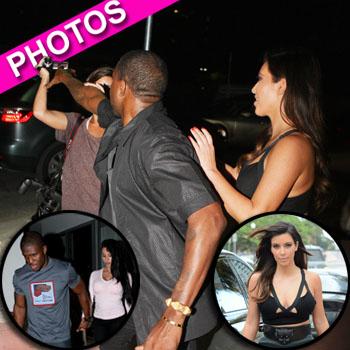 Seems like no matter where Kim Kardashian goes, there's always a reminder of where she's been.
Such was the case Sunday in Miami, as the 31-year-old socialite and rapper boyfriend Kanye West bumped into her former flame Reggie Bush while leaving swanky restaurant Prime 112.
The sex tape star and Jesus Walks singer, 35, sported catwalk-ready looks as usual, as Kanye went for an all-black outfit while Kim wore a sexy dress that showed off midriff and her world-famous behind.
Article continues below advertisement
After dinner, the power couple bumped into Bush, who was fresh off one of the worst games of his career, gaining 19 yards on 12 carries in Miami's squeaker win over St. Louis.
Upon the presumably awkward crossing of paths, Kanye blew his stack at a camerawoman who dared to ask him if he'd congratulated Kim's ex on the recent news of his impending fatherhood.
Kanye grabbed for the woman's camera -- Kim seemed to smirk at the run-in -- until the shutterbug fled. The couple left the South Beach eatery in a Rolls Royce soon after.