Battle Of The Booty! Kim Kardashian Vs. Coco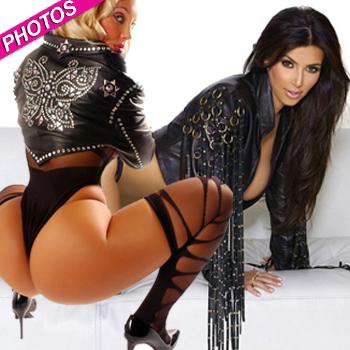 Kim Kardashian and Coco Austin have more in common than their bombshell booties!
With their not-so-bashful approaches to showing off their swerving curves, Kim and Coco are always on our RadarOnline.com. After Kim shared a racy photo on her Twitter page last week, that looked strikingly similar to one that Coco shared just days earlier, it seemed only appropriate for a Coco Vs. Kim Battle of the Booty showdown!
Article continues below advertisement
When it comes to their bikini bodies, Kim and Coco have some of the most enlarged assets on the shoreline. While Coco opts for barely-legal thong bikini bottoms and tiny triangle tops, Kim is a tad more modest when it comes to her sexy swimwear — but only a tad! Who has the most bootylicious backside and bombshell boobs from the Atlantic to the Pacific? Find out by clicking through our photo gallery.
When it comes to their love lives, Kim and Coco are drastically different. While Coco has been married to rapper Ice-T for several years and couldn't be happier with their relationship, Kim has bounced around from Ray-J to Reggie Bush to Kris Humphries and now to Kanye West, and is soon to be a double divorcee!
Meanwhile, Coco happily shares the limelight with reality television's top dog, Spartacus, her adorable English Bulldog, but Kim has yet to find a puppy love in her life.
From their Twitter pages to the success of their shows, see Kim and Coco battle it out by clicking here.