Kim Kardashian's Ex Reggie Bush Confirms He's Going To Be A Daddy!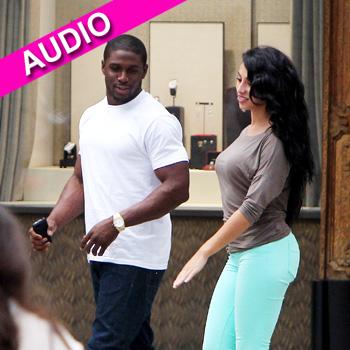 Article continues below advertisement
"We're pretty excited, we haven't found out if it's a boy or a girl yet but we're pretty excited, we can't wait."
As RadarOnline.com exclusively reported, Kim is "very upset" that Reggie's girlfriend is pregnant.
"Kim had pressured Reggie for a very long time to get married while they were together because she wanted to have a family with him. Reggie just thought that Kim placed too much of a priority on her fame and reality television though and he wanted none of it. Reggie was a part of the Kardashian family for over five years and deep down Kim has always held out hope that they would end up together, even though she married Kris Humphries.
MORE ON:
hollywood happenings
"She feels it is a slap in the face that Reggie would consider having a baby with this woman when he wouldn't with her."
Now playing for the Miami Dolphins, Reggie is already in daddy mode, telling the show: "I'm excited, I can't wait, I'm hoping for a boy cause if it's a girl I'm going straight to the gun shop!"
Congrats to Reggie and Lilit!
RELATED STORIES:
Chad 'Ochocinco' Johnson Sentenced After 'No Contest' Plea For Domestic Battery Charges