Exclusive
Kim Kardashian 'Very Upset' Over Reports Reggie Bush's Girlfriend Is Pregnant!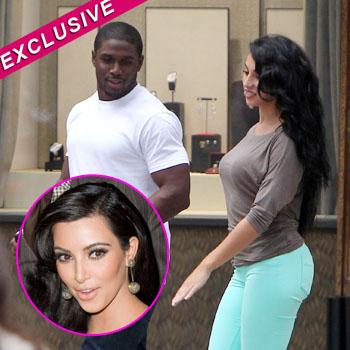 Article continues below advertisement
"Kim is very upset that there are reports out there Reggie has gotten Lilit pregnant," the source says. "Kim had pressured Reggie for a very long time to get married while they were together because she wanted to have a family with him. Reggie just thought that Kim placed too much of a priority on her fame and reality television though and he wanted none of it. Reggie was a part of the Kardashian family for over five years and deep down Kim has always held out hope that they would end up together, even though she married Kris Humphries.
"She feels it is a slap in the face that Reggie would consider having a baby with this woman when he wouldn't with her."
According to In Touch Weekly, Reggie's Kim Kardashian look-alike girlfriend is three months along. "She is extremely excited to become a mom, even though it wasn't planned," a friend of Reggie's tells In Touch. And Reggie feels the same way. "He's excited and can't wait to announce it!"
Article continues below advertisement
Meanwhile, Kim is not happy that she is unable to move on with her life and that she is still tied to second husband Humphries.
"Kim is beyond frustrated that she is still legally married to Kris," the source says. "Yes, she has moved on emotionally with Kanye, but she can't marry him, yet! She is livid with Kris for dragging this out, but she won't cave in to his demands that she admit the marriage was fraudulent. So, Kim is stuck.
"Publicly, Kim is putting on a very brave face, but she just isn't happy with the status of her personal life. Seeing Reggie move on like this makes her all the more determined to marry Kanye and prove to him she's moved on too — even though she obviously hasn't!"
RELATED STORIES:
Kim Kardashian Wants An 'Island' Wedding
'Sex Tape Buddies' Hulk Hogan & Kim Kardashian Cross Paths In South Beach
Deja Vu? Kim Kardashian Gushes Kanye 'Is The One' Can't Even Think About Being With Anyone Else