Kim Kardashian Wants An 'Island' Wedding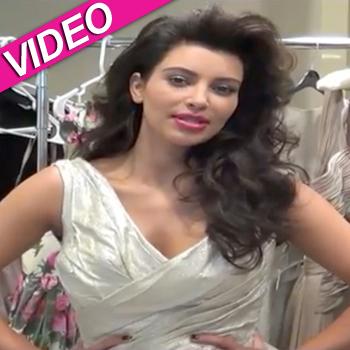 Her last marriage lasted just 72 days before she filed for divorce but that hasn't turned Kim Kardashian off getting married again.
Posing for England's Tatler magazine in a wedding gown, the reality TV star - who is now dating Kayne West - opened up about her plans to tie the knot and why next time it won't be anything like her marriage to Kris Humphries.
"It had always been my dream to have a big wedding, and when people said I'd made it over the top for the show, that was just me: I am over the top," she says in the November issue.
Article continues below advertisement
"But the next time, I want to do it on an island with just my friends and family and that's it."
Still battling Humphries in divorce court, Kim also addressed claims her big day was a set up.
"I mean, that is just not the person I am. Who would honestly get married for ratings? It's not like the ratings had dropped and we needed a boost.
"Never mind other people's emotions - who would mess with their own emotions in that way? And for me to do it and have it not work out was the most embarrassing thing. It was risking ruining my career."
The magazine also shot a behind the scenes video of the photo shoot in which the Keeping Up with the Kardashians star answered some quirky questions.
When asked what her death row dinner would be she said: "Cheese pizza, Oreo cookie ice-cream and maybe a vanilla cup cake."
And she is just as picky when it comes to her men. In response to the question of what a relationship deal breaker would be she admitted: "Anything to do with bad hygiene, like teeth or nails or big ears. I'm really weird about stuff like that."