Kim Kardashian: I'd Trade Places With Jesus For A Day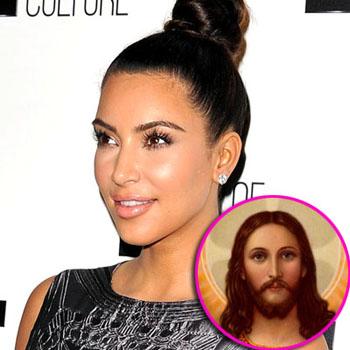 Kim Kardashian wants to be Jesus. (No, seriously.)
The reality star, speaking to Australia's News.com.au while on tour in Sydney, was asked who she would want to trade lives with for a day, and she responded: "Jesus. Because I think it would be pretty fascinating to see the power that he had."
Kim's boyfriend Kanye West has sang about the religious figure in his 2004 track Jesus Walks, and posed with thorns on his head on the cover of Rolling Stone in 2006.
Article continues below advertisement
Elsewhere in the chat, Kim says her brother Rob "needs to stop getting tattoos" after his latest ink incarnation of mother Kris Jenner on his arm.
"That's what I think about it," said Kim, who skyrocketed to fame after her 2007 sex tape with Ray-J. "I get really worked up over it. He needs to stop. I've never gotten one, and I think at this age, what's the point?"
Fun Fact: Actors who have played Jesus in TV and film include Christian Bale (1999's Mary, Mother of Jesus), Jim Caviezel (2004's The Passion of the Christ) and Willem Dafoe (1988's The Last Temptation of Christ).