Kanye West Sings About Kim Kardashian's Sex Tape In New Song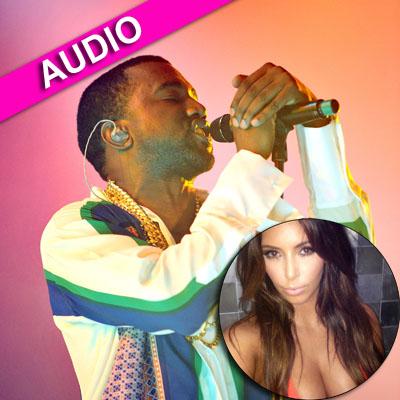 Kanye West acknowledges -- and even brags about -- the 2007 sex tape his girlfriend Kim Kardashian made with Ray-J in his new song, Clique.
In the single, the first off Kanye's new album Cruel Summer, he sings, "Eat breakfast at Gucci/ My girl a superstar all from a home movie," in reference to the XXX video that built her profile, Kim Kardashian: Superstar.
It's not the first time Kanye has referred to the reality queen in one of his songs: In his single Theraflu from earlier this year, he rapped about his relationship with Amber Rose while taking a swipe at Kim's ex Kris Humphries.
Article continues below advertisement
Listen to the audio on RadarOnline.com
"The whole industry wanna f**k ya old chick/ Only n***a I got respect for is Wiz/ And I'll admit I fell in love with Kim/ Around the same time she had fell in love with him … lucky I ain't have Jay drop him from the team."
Cruel Summer hits stores September 18.
MORE ON:
hollywood happenings