Kim Kardashian & Kris Humphries Not-So Happy One Year Anniversary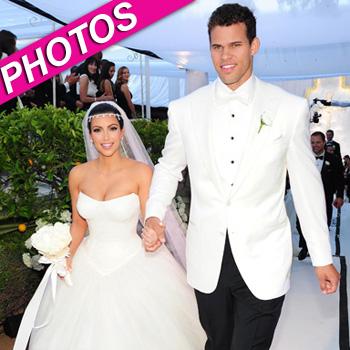 It's been one year since Kim Kardashian walked down the aisle in her strapless, princess-style Vera Wang gown to meet her groom Kris Humphries as they promised to love each other forever.
And on their one-year wedding anniversary, -- remember, they're technically still married! -- RadarOnline.com takes a look back at the much-publicized 'fairytale' union in photos.
The estranged couple will not be doing any celebrating together Monday as their relationship lies in ruins with no end in sight in the contentious divorce to end their ill-fated 72-day marriage.
Article continues below advertisement
In the year since a who's who of celebs, including Eva Longoria and Ryan Seacrest, came together with the bride and groom at a lavish Montecito, California estate, much has taken place, including the basketball star accusing Kim of defrauding him into marrying her for the sake of reality show ratings and accusations that the New Jersey Nets star is stretching out the drama to hold on to the Kardashian connection and continue to soak up the fame.
The couple started dating in October 2010 and got engaged just seven months later. Their August 20, 2011 wedding was shown in a much-watched two-part special on E!
Fans later saw the doomed duo's relationship unravel in Kourtney & Kim Take New York, where it was clear they were not compatible.
Kim ultimately filed for divorce on October 31, 2011 with Kris responding that he wanted the marriage annulled.