Deja Vu? Kim Kardashian Gushes Kanye 'Is The One' Can't Even Think About Being With Anyone Else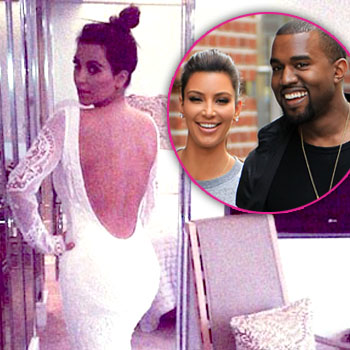 Is it really "different" this time, Kim Kardashian?
The 31-year-old reality star makes some confusing and contradictory statements in a new interview with Tatler magazine about her relationship with Kanye West, gushing that the hip-hop star is the one, but also admitting that she has felt the same way with every guy she has been with – all while modeling wedding gowns. RadarOnline.com has the details.
Article continues below advertisement
"It's so nice to have a best friend in this game who understands everything you're going through," Kim brags about her boyfriend, who has known her since her sex tape years. "Being with someone I've known for so many years is comforting. He's been there through so many different stages of my life and before I was famous, so this relationship is a different thing entirely. It's good to be aware that he definitely doesn't want anything from me too, because he understands the business.
"I can't even think about being with anyone else than the man I'm with."
However, Kim does realize that she has made similar statements about every guy she has been with, from Ray-J and Reggie Bush to her estranged husband Kris Humphries.
"When I look back at interviews I gave about previous boyfriends saying, 'We're talking about marriage, etc.' It's embarrassing. And I really believed it at the time! I'm such a hopeless romantic that I'll always believe the next one is the one."
Article continues below advertisement
And though Kim is legally still married to NBA star Humphries, whom she tied the knot to in a lavish ceremony just a little more than a year ago, that isn't stopping her from planning her next wedding to Kanye.
"It had always been my dream to have a big wedding, and when people said that I'd made it over the top for the show, that was just me: I am over the top. But the next time, I want to do it on an island with just my friends and family and that's it."