Exclusive
Reckless On The Road! Kendall Jenner Accused Of Texting While Driving, Swerving Across Freeway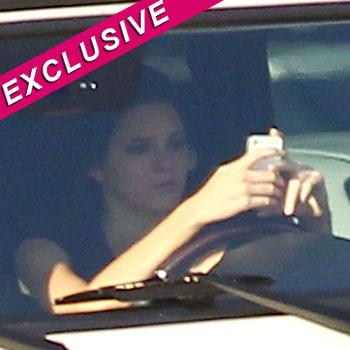 Article continues below advertisement
And it begs the question, is she ready to be on the road?
"I was driving on the 405 freeway in the Calabasas area when I saw her Range Rover next to me in the other lane," an eyewitness tells RadarOnline.com.
"It actually made me look over because I noticed the car was dangerously drifting towards my lane.
"When I glanced through my car window, I saw that Kendall Jenner was driving the other vehicle, but she wasn't looking at the road, her eyes were fixed on her cell phone!
"In fear she would crash into me, I sounded my horn and Kendall looked across, but she appeared unfazed. I made some signals to her to get off the phone, but she just sped off.
"Just a few minutes later, I caught up with Kendall on the freeway. As I looked across once more, I could see she was still texting!
"Again, she was swerving in her lane, from one side to the next, and she wasn't paying attention to other drivers. If she continues to behave like that, Kendall could get hurt or worse still, hurt someone else," the eyewitness concludes.
Article continues below advertisement
Back in August, Kim Kardashian's little sister's driving was so bad, one witness claimed that they were almost forced off the road.
"The car was all over the lane. I thought the driver was intoxicated!" a concerned Los Angeles commuter complained.
"When I pulled up alongside her car, I realized it was Kendall Jenner. She was texting and driving!
"I was trying to get off the freeway, and I couldn't merge into the right lane because (Kendall) wasn't paying attention and her car would have drifted into mine," they revealed.
Kendall has yet again broken a serious traffic law – texting while driving is prohibited in California, and because of the vehicle code 23124, drivers under 18 aren't even allowed to use a cell phone with a hands-free device.
Getting busted for her infraction didn't seem to bother the teenager.
"When she realized we were taking pictures of her, she gave me a dirty look but continued texting, laughing with her friends in the car," says the other driver.