Give Me Some Attention! Kris Jenner Tries To Steal Limelight From Daughters Kylie & Kendall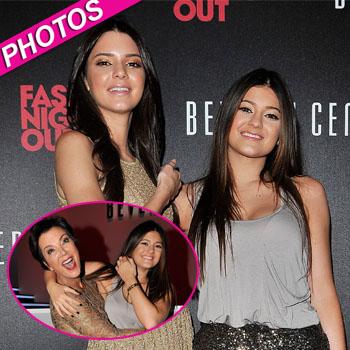 Article continues below advertisement
Clad in a peek-a-boo lacey gold dress, the 56-year-old was all smiles on the red carpet.
Inside the venue Kris couldn't resist giggling in front of the cameras while bear hugging 15-year-old model Kylie.
She is also captured thrusting her head into a shot as former Playboy model Kendra Wilkinson posed with her daughter.
The photos emerge just a day after RadarOnline.com exclusively revealed that the mother-of-six hates Honey Boo Boo's mother who co-stars in the summer reality TV hit Here Comes Honey Boo Boo featuring her child pageant queen daughter Alana Thompson.
"She thinks the Thompsons are classless unlike her family and can't understand why America is so fascinated by them…" a source told RadarOnline.com.
"Kris especially has a strong dislike for June, claiming the beauty pageant world is vile and that June is a bad mom for 'exploiting' Alana in that way."
Kris is not immune to criticisms that she too has exploited her own children.
Last month a family insider told Star magazine that she allegedly spearheaded the sale of daughter Kim Kardashian's sex tape in 2007.