Death Becomes Her: Kris Jenner Poses In A Coffin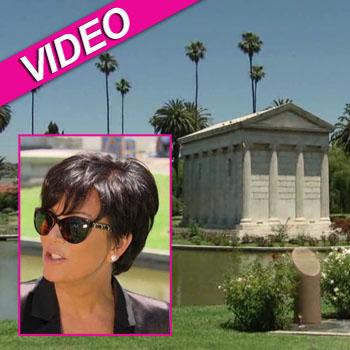 Warning: mysql_ping(): MySQL server has gone away in /home/wpcom/public_html/wp-content/db.php on line 481 amradaronline.wordpress.com
The scent of death was in the air on Sunday's episode of Keeping Up with the Kardashians, as Kris Jenner developed a morbid obsession with planning for the end, and we've got the clip for you right here on RadarOnline.com.
Kris gained a heightened sense of her own mortality after spending a week with her mother, spurring the reality star on to investigate getting the celebrity family a plot at the Hollywood Forever Cemetery, a final resting place renowned for the famous people buried there.
Article continues below advertisement
"It's actually interesting and fun doing what we're doing," the always-open Kris said after the family toured a mausoleum.
Kris called the family together for a meeting to make her wishes known to the group.
"If something happens to me, you're going to be hopefully sad about it and you're not going to make the right decision," the "Momager" said. "There's a lot to do and I want to make sure everything's organized if something happens to one of my family members."
Things got even more awkward when Kris decided to go coffin shopping, giving her kids a (traumatic?) sneak peek at what she will look like at her funeral, when she posed for a picture in one of the coffins.
Watch the video on RadarOnline.com
Finally, the act wore thin, as Khloe groused that she and her sisters have "already lost a parent (late O.J. Simpson lawyer Robert Kardashian) and we don't want to think about losing another one."
Article continues below advertisement