Kris Jenner's Faith To Bruce Is Tested … Via Lie Detector!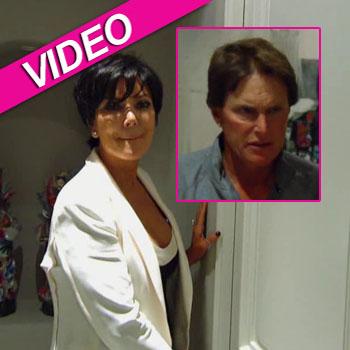 Kris Jenner is back in the circle of trust!
For weeks now, we've seen the married "Momager" tease an affair with former lover Todd Waterman, and on Sunday's episode of Keeping Up with the Kardashians, Kris faced the music about what she's been doing with Todd -- in the form of a lie detector test.
After Kris met up with Todd yet again (at a restaurant), her former paramour offered her to "get out of here" to a more private destination.
Article continues below advertisement
Kris declined -- the sparks just weren't there -- and she finally doused the torch she carried for Todd.
"I think that this dinner has taught me a lot of things," Kris said. "And it's nice to know that I made the right decision, and I'm just really glad that I'm going home to Bruce Jenner."
Kris did just that, telling Bruce about her dinner with Todd, in hopes of letting him know she appreciates him that much more. He was furious.
"Explain to me why you saw this a**hole … what an idiot you are! I don't even know how I can trust you -- I can't believe you did this!" Bruce told Kris, as their daughter Kylie eavesdropped in the background.
Kris's daughters Kourtney, Kim and Khloé have been furious with their mother's sneaking around, and decided (along with Bruce) it was time to put her to the test: a lie detector test!
"We know that we're playing with fire and we might not want to know some of the real answers to these questions," Kourtney said. "But if she really has nothing to hide, she shouldn't be worried about answering them."
Article continues below advertisement
The results of the polygraph questioned Kris passed? Kim is her favorite daughter, Robert Kardashian is Khloe's biological father, she has always paid the girls their fair share and she's not in love with Todd.
"I passed the lie detector test," a relieved Kris said. "Hopefully, my family will realize that I've been telling the truth all along, and they'll leave me alone."
With the Todd fiasco behind them, Kris and Bruce embarked on a getaway to gorgeous Malibu, California, to rediscover their romance, and things seemed to be going well at the outset.
Kardashians: Kris Confesses to Bruce
In a shocking turn of events, Kris admits she snuck behind Bruce's back to meet up with her ex! See how she breaks the news.
@font-face {
font-family: "DIN Web Condensed";
src: url('http://www.eonline.com/resources/fonts/DINWeb-Cond.eot');
Article continues below advertisement
src: local("?"),
url('http://www.eonline.com/resources/fonts/DINWeb-Cond.eot?#iefix') format("embedded-opentype"),
url('http://www.eonline.com/resources/fonts/DINWeb-Cond.woff') format("woff");
}
#e-online-video-wrapper {background-color: #000000;}
#e-online-video-wrapper embed {display:none;}
#e-online-video-wrapper video {display:none;}
#e-online-video-wrapper #link {display:block;position:relative;}
#e-online-video-wrapper #link .overlay {cursor:pointer;position:absolute;z-index:3;}
#e-online-video-wrapper #link:hover .overlay {border:3px solid #FF0000;}
#e-online-video-wrapper #link #video-thumbnail {display:block;}
#e-online-video-wrapper #link .play-btn {background:url("https://images.eonline.com/static/uberblog/images/play-btn.png") no-repeat scroll 0 0 transparent;height:56px;position:absolute;width:56px;}
#e-online-video-wrapper #link:hover .play-btn {background:url("https://images.eonline.com/static/uberblog/images/play-btn-over.png") no-repeat scroll 0 0 transparent;}
Article continues below advertisement
#e-online-video-wrapper .title {display:block;color: #FFFFFF;font-family: "Din Web Condensed",Arial,Sans-Serif;font-size:36px;font-weight:normal;line-height:1;margin:0px 0px 0px 0px;padding:10px 0px 5px 10px;text-transform:none;width:510px;}
#e-online-video-wrapper .description {color:#FFFFFF;font-family:"DIN Web Condensed",Arial,Sans-Serif;line-height:19px;display:block;font-size:15pt;margin-top:0;padding:10px 10px 10px 10px;position:relative;}