Exclusive
Beyonce Accuses Kim Kardashian Of Trying To Steal Limelight From Jay-Z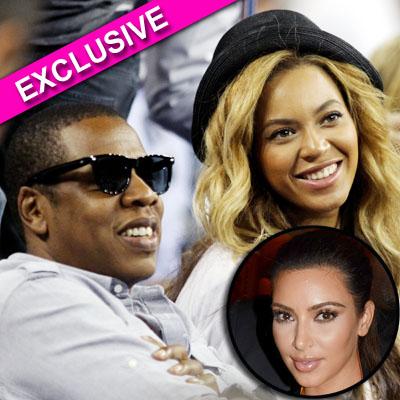 By Jon Boon - RadarOnline.com Reporter
Beyonce turned on Kim Kardashian when she thought the reality TV star was trying to steal her man's thunder, RadarOnline.com is exclusively reporting.
At the Jay-Z curated Budweiser Made In America music festival last weekend, the 42-year-old hip-hop star's other half got upset when Kim, 31, tried to muscle in on a Ron Howard documentary that was being filmed at the Philadelphia event about the 'Empire State of Mind' rapper.
Article continues below advertisement
Beyonce, 31, politely reminded Kim that the docu wasn't about her, but Jay-Z told her to make peace with the Keeping Up With The Kardashians – because of his friendship with her boyfriend Kanye West.
But that didn't stop Kim crying home to mom, Kris Jenner claiming she felt she was unfairly treated!
"Kim was desperate for attention in the VIP area and was getting in the way of cameras that were supposed to be filming Jay-Z," an eyewitness at the festival revealed.
"She kept saying she was a huge fan of Ron Howard and would do anything to be cast in one of his films, so Kim was using this as an opportunity to impress the movie maverick.
"However, Beyonce wasn't amused that Kim was using her husband's documentary to audition for Ron.
"So, she took Kim to one side and told her that the day wasn't about her, it was about Jay-Z, his work in organizing the event and there were other celebrities and musicians there that needed coverage too.
Article continues below advertisement
"Kim was fuming that the spotlight wasn't on her – but Ron was there for Jay-Z, not her, and he really didn't care if she was or wasn't taking part in any of the filming.
"Step forward Jay-Z, as gracious as he is, to act as peacemaker. He said to Beyonce that she needs to play nice with Kim because he is pals with Kanye.
"But the damage was done. Later that night, Kim phoned her mom Kris to complain about the harsh treatment she thought she got at the festival.
HOTOS: Beyonce Through The Years
"She just isn't used to not getting what she wants," the source said.
It's been a tough week for Kim. She visited the set of The View on Wednesday and claimed she is a changed woman after her failed marriage to Kris Humphries, preferring the more simple things in life. However, the talk show's hosts didn't quite buy it!
"I'm such a different person today," Kim expressed to the ladies about how her split from the NBA star changed her. "I care more about the simple things. You really figure out what's important in life. I value time more. Staying at home, doing nothing, cooking in. It's not all about the glitz and glamour of a relationship."
Article continues below advertisement