Beyonce Responds To Harry Belafonte's Stinging Attack With List Of Her 'Unselfish Work'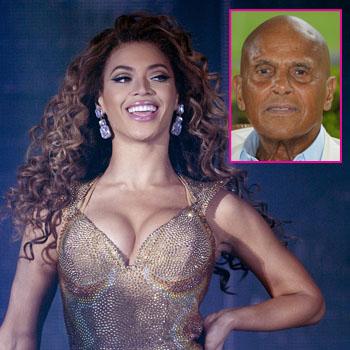 When it comes to her critics Beyonce Knowles usually responds with dignified silence. But just days after Harry Belafonte lambasted her for shirking her "social responsibility" the singer's camp has revealed an "abbreviated list" of her "unselfish work."
The legendary actor launched a stinging attack on Beyonce and husband rapper Jay-Z.
During an interview with The Hollywood Reporter the 85-year-old was asked if he was happy with the "image of members of minorities in Hollywood today."
Article continues below advertisement
"It is sad," the Carmen Jones actor said. "And I think one of the great abuses of this modern time is that we should have had such high-profile artists, powerful celebrities. But they have turned their back on social responsibility. That goes for Jay-Z and Beyonce, for example.
"Give me Bruce Springsteen, and now you're talking. I really think he is black."
But the 30-year-old entertainer is not taking the criticism lying down. On Monday her rep sent an email to the Wall Street Journal with: "An abbreviated list of the unselfish work Beyonce has done and continues to do."
Included on the list was The Survivor Foundation – "a multi-purpose community outreach facility in downtown Houston" – that the singer cofounded. It was also pointed out that she donated "100K in 2008 to the Gulf Coast Ike Relief Fund to aid Texas victims of Hurricane Ike."
The email went on to say that Beyonce has also performed in "MTV's Hope For Haiti Now! Benefit in addition to making a generous monetary donation."
Article continues below advertisement
Ironically on Saturday – just days after Belafonte's comments were published – the singer recorded a performance of her song I Was Here at the UN General Assembly Hall in New York.
Beyonce is spearheading the campaign for World Humanitarian Day, which falls on August 19. In a promotional video she urges her followers to "do one thing for another human being."
RELATED STORIES:
Beyonce & Jay-Z Take Their Camera On The Road -- See The Pics!
Beyonce & Jay-Z Rent Out Huge Hamptons Estate: Take A Peek Inside!
Like Mommy, Like Daughter! Beyonce And Baby Blue Ivy Show Off Hot Hairdos