Better Late Than Never! Kim Kardashian Finally Admits To Fashion Faux Pas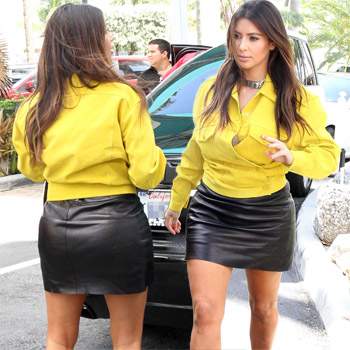 She has been slammed for several of her style sins over the past few months, but Kim Kardashian has finally confessed to one of them!
The 31-year-old reality star took to her blog on Monday to call herself out on a fashion faux pas she committed while filming her show Kourtney & Kim Take Miami and RadarOnline.com has the photos and details.
In a blog aptly titled Fashion Faux Pas, the reality star fesses up to her Friday fashion mistake, which consisted of an anything but mellow yellow Acne suede jacket, a leather mini skirt, Jimmy Choo gladiator stiletto heels and a Celine choker necklace.
Article continues below advertisement
"Ok, ok, I am putting myself on the worst dress list for this outfit! I wanted a little color while I'm living in Miami, so my intentions were good, but the cut isn't for me! You definitely need to be taller and thinner to pull this jacket style off!" Kim blogged about the disaster.
"Fashion is all about experimenting to try and find your style and you have some hits and misses along the way. The mirror was lying to me this day! Where were my sisters or my boyfriend when I needed a good opinion?! LOL."
What do you think about Kim Kardashian's outfit? Sound off below.
RELATED STORIES:
Kanye West Loses It After He & Kim Kardashian Bump Into Reggie Bush
Kim Kardashian Models See-Through Leopard Bodysuit Halloween Costume
Kardashians Banned From Living And Filming In South Beach By Neighbors
As The Kardashian Turns! Kris Jenner Sent To 'PR Rehab' In Hilarious New Parody