Another Wardrobe Malfunction For Kim: Kardashian Bursts Out Of Her Dress!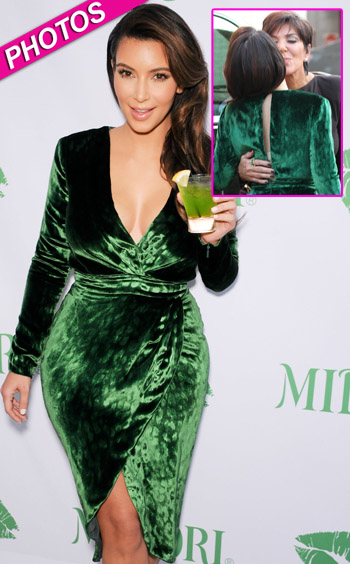 Another day another wardrobe blunder for Kim Kardashian!
The bootylicious reality star was snapped literally bursting out of the emerald green velvet wrap dress she wore to an event in L.A. on Tuesday night, and RadarOnline.com has the photos.
Though Kim looked totally poised from the front, the too tiny gown was straining at the seams, with the back snappers burst open and her bra strap clearly visible through the gaping back.
Article continues below advertisement
Kim's mom Kris Jenner was on hand to try and fix her famous daughter's dress before she faced the army of photographers – front only of course – but Kim's killer curves simply couldn't be contained.
The 31-year-old was at the Midori Makeover Parlor event in Santa Monica and despite trying to hide the fact she had poured herself into a gown that looked about two sizes too small, the open zipper and burst buttons were clearly on display.
This is the second time recently that Kim has popped out of a dress and got the sizing wrong. In June, just minutes before appearing on Jimmy Kimmel Live! with her sisters Khloe and Kourtney, she revealed via Twitter that her skin-tight leather dress had ripped and that she had to be sewed back into it at the last minute.
And this isn't the first bizarre or risky style choice from Kim this week either.
Article continues below advertisement
While out shopping in Miami a few days ago she sported a weird grey "skort" suit – shorts at the front and a skirt at the back – that did nothing to flatter her more than generous booty.
Kim's pool wear in Miami was equally strange. She headed for a day at the beach in an ill fitting white swimsuit with a gold belt that did little to flatter her form.
While the Michael Kors bathing suit did show off Kim's waspish waist, her very ample boobs looked squashed and the bottom half looked like a diaper.
Kim's recent fashion mishaps are said to be because of her boyfriend Kanye West's influence…Since she started dating the rapper her outfit choices have definitely become more experimental and she and Kanye have been snapped on more than one occasion sporting embarrassing his and hers get ups.
RELATED STORIES:
Old Hollywood Glamour Or Fashion Disaster? Kourtney Kardashian Wears A Turban
Skort Style Slip-Up! Another Fashion Flop For Kim Kardashian