Ryan Seacrest Hints That Kanye West Wedding Proposal To Kim Kardashian Is Imminent!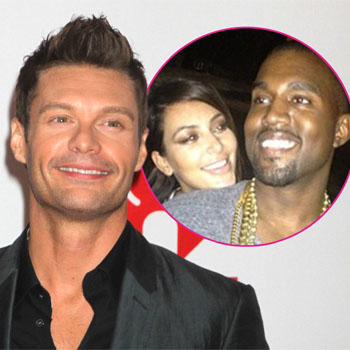 By Jon Boon - Radar Reporter
Ryan Seacrest has hinted that a Kanye West wedding proposal to Kim Kardashian could be imminent, RadarOnline.com is reporting.
The American Idol host was commenting on speculation that the Keeping Up With The Kardashians star is demanding an engagement ring on her 32nd birthday this Sunday, which prompted Seacrest, 37, to tell his KIIS FM listeners to watch this space.
Ryan, who has a close relationship with the Kardashian clan because of his work as an executive producer on their reality TV show, told co-host Ellen K: "I think we could definitely see an update on this story on Monday."
Article continues below advertisement
Whether Ryan knows more than he is letting on is a mystery for now – but no one could be better placed to know if another Kardashian wedding is in the pipeline.
Meanwhile, a source close to the couple has confirmed Kayne, 35, has been deliberating over a ring for some time.
"It's only a matter of time before Kanye pops the question," the insider revealed. "They are madly in love with one another and as far as Kanye is concerned he wants to spend the rest of his life with Kim.
"It's just a case of making sure the ring is perfect because she's his princess."
Last weekend, Kanye threw a temper tantrum after a chance encounter with Kim's ex Reggie Bush.
The 31-year-old socialite was leaving swanky Miami eaterie Prime 112 with her beau when she bumped into the Dolphins running back.
Upon the presumably awkward crossing of paths, Kanye blew his stack at a camerawoman who dared to ask him if he'd congratulated Kim's ex on the recent news of his impending fatherhood.
Article continues below advertisement