Ryan Seacrest Promises Yet More Kardashian Family Drama, 'It's Endless'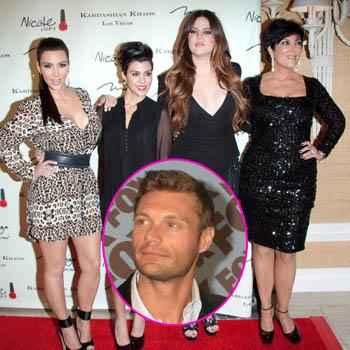 Kim, Khloe, Kourtney and the rest of the Kardashian klan are going to keep the drama going for years to come!
In a new interview with The Hollywood Reporter, Keeping Up with the Kardashians producer Ryan Seacrest reveals how the Kardashian family has changed since he thrust them into international superstardom with their hit reality show, and what to expect in the future.
"Salary. Besides money? Turnover with boyfriends and husbands," Seacrest jokes when asked how the family has changed in the last few years. "But the premises is still really simple. It's a family with a lot of love, a lot of craziness, a lot of chaos.
Article continues below advertisement
"They just let it go, and we shoot with a skeleton crew a lot of times with the intimate moments, with some of the relationship breakups, et cetera," he continues. "But they've constantly got something happening in that family that makes for the next episode, the next season, the next spinoff. It's endless."
The American Idol host also reveals the struggles of having Kris Jenner onboard as the executive producer, which means that the family has complete control over what makes it on the air.
MORE ON:
Keeping Up With the Kardashians
"I remember when we first started shooting Kardashian episodes, there were words that girls use with girls that I was uncomfortable airing," hinting that "it rhymes with 'beef'."
"So this word was being used back and forth, and I thought to myself, 'You can't leave that in.' And they said, 'Yes. We talk like that.' We ended up taking it out, but since then they actually weigh in. It's dangerous."
RELATED STORIES: