Kim Kardashian Says Her Bikini Shot Isn't Photoshopped!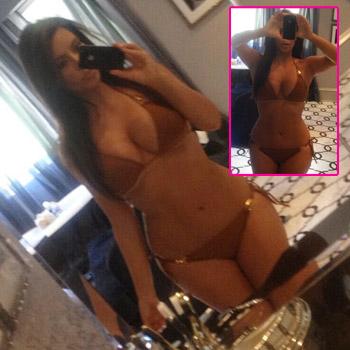 Kim Kardashian showed off her banging bikini body in a skimpy brown suit and we've got the shot for you right here on RadarOnline.com that she swears wasn't photoshopped.
The entrepreneurial reality star looked splendid in a sexy two-piece, and told her Twitter fans that her body was the real deal, writing, "Pool time … #nofilter #nophotoshop."
Kim poured her ample assets into the tiny bikini in the self portraits, not hiding her curvy body, and recently said that she's getting back in shape.
Article continues below advertisement
The 31-year-old, who's currently dating rap superstar hip-hop superstar Kanye West, told her 15.6 million followers earlier this week she's "back on my workout grind!"
From the looks of things, we believe her!
RELATED STORIES:
Kim Kardashian & Kanye West: No Sleeves, No Problem!
Kim Kardashian And Kanye West Hit Broadway
Kim Kardashian Boasts She Is More Famous Than Jennifer Aniston & Angelina Jolie!
Kanye West Planning To Propose To Kim Kardashian When Divorce Finalized, Designing Ring