Exclusive
Jon Gosselin & Author Linked In Scheme To Spread Lies About Kate Gosselin For Profit --Anti-Bullying Activist Vows To Expose Money Trail Proof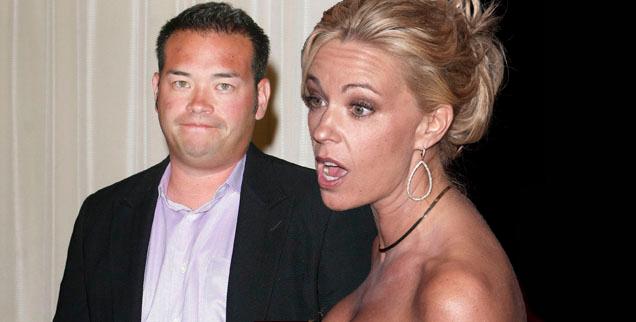 The battle over Kate Gosselin is getting hotter by the day and now Jon Gosselin is back in the middle of it.
An anti-bullying activist tells RadarOnline that he will prove Jon and anti-Kate book author Robert Hoffman were linked in a scheme to spread lies about Kate for profit.
James McGiney, the anti-bullying activist, recently announced a lawsuit against people he says have crossed the line in attacking the mom of eight. But that has not deterred Hoffman, Kate's most ardent critic, who, is putting his once-banned e-book about her back on the web.
Article continues below advertisement
But right as the book resurfaces, McGibney, owner of bullville.com, tells RadarOnline.com he will prove Jon schemed with Hoffman to profit off "lies" and "deceit" about Kate.
Addressing Hoffman directly, McGibney told RadarOnline.com: "You had your chance to come clean about all the lies and deceit you based the book off of but you are such a narcissist you and Jon decided to just go ahead."
McGibney has set up hoffmanbook.com and @hoffmanbook, promising he will release proof of a money trail fueling the anti-Kate material.
"I'm going after Jon , a lawyer involved in this and Hoffman," McGibney told RadarOnline.com exclusively.
Hoffman's self-published e-book, Kate Gosselin: How She Fooled The World," is being made available via the web to news organizations who email the author, according to an announcement he recently posted.
The book was briefly for sale on Amazon last year but was removed by the e-retailer after two days when lawyers for Kate demanded it be taken down.
Article continues below advertisement
RadarOnline.com broke the story that Jon Gosselin gave Hoffman access to Kate's computer hard drives, filled with contracts, journals and other personal information. (Hoffman says he pulled the hard drives out of the trash.)
Meanwhile Hoffman posted this notice about his book: "The entire text of the book KATE GOSSELIN: HOW SHE FOOLED THE WORLD, including all supporting documents, digital files and photo libraries for verification, is now available for viewing by any legitimate news-gathering organization interested in this story.
"Contact (redacted) for more information and author interview requests.
"Thank you to bullyville.com for putting the national spotlight back on this story that had been swept under the rug and had been long forgotten."
But McGibney signaled his charge into the battle with this tweet: @BullyVille: Coming Soon! Hoffman Book ~theft, lies and the money trail."
RadarOnline was first to reveal that Hoffman is a pal of Kate's ex husband Jon, a fact later confirmed by Hoffman.
Article continues below advertisement
Kate has been called "sick" and in desperate need of mental help by Hoffman, who told RadarOnline.com that he has previously reported her to child services and believes she is abusive toward her children.
"I personally contacted Child Protection Services (sic) twice in 2010 when I found the journal," Hoffman previously wrote in response to questions sent to him by RadarOnline.com's founder and Managing Editor David Perel (@IMPerel). "I sent them copies of what I had and they told me they would look into it and that's the last I heard. I've tried to talk to Kate several times in 2010 but she wouldn't acknowledge my existence."
It is the most feverish and pitched battle over Kate since the days when her divorce from Jon played out on national TV. McGibney and another anti-bullying activist have revealed the true identities of many people behind vitriolic – and worse – comments toward Kate, posting the information on a third-party web site.
One Kate critic apologized to the reality TV star via RadarOnline.com after being identified.