Exclusive
Zellweger's Oscars Frozen Face & Squinty Eyes, 'Was Renee Blinded By The Lights, Or Too Much Botox?'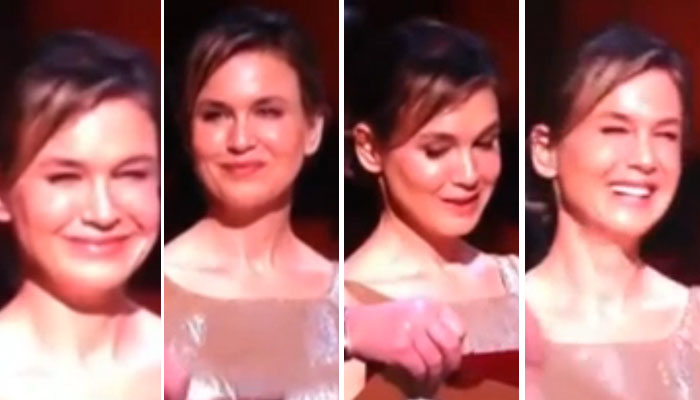 Oscar viewers around the globe were gobsmacked by both Renee Zellweger's smoother-than-glass face and incredibly squinted eyes when she took to the stage Sunday night -- and the twitterverse was soon awash with jibes over the actress' startlingly frozen face.
No stranger to Hollywood's biggest night out, Zellweger appeared to have gotten so much Botox and injectable fillers as part of her 'red carpet ready' routine than she was barely recognizable as she stood between her Chicago co-stars -- and RadarOnline.com has exclusive insight into what is thought to be behind the 43-year-old's new look.
Article continues below advertisement
"Was Renee Zellweger blinded by the bright lights or by too much Botox?" quips celebrity plastic surgeon Dr. Anthony Youn, who has not treated the actress, in an exclusive interview with Radar.
"I suspect that she underwent Botox injections to her forehead, causing it to look extremely smooth and even shiny," Dr. Youn reveals. "Her cheeks may also have been plumped with an injectable filler like Juvederm."
However, the surgeon explained that the Bridget Jones' Diary star looked better on the red carpet than when she was on stage presenting an award, leading him to suspect it may have been the harsh lighting that helped add to her strange appearance.
"I think that it's not just plastic surgery that caused her unusual appearance on the Oscar stage, injections may have contributed to it as well, and I think it was amplified by the bright lights," he says.
Article continues below advertisement
For more scoop on celebrity plastic surgery, visit Dr. Youn's blog and pick up his eye-opening memoir, In Stitches, which is available on Amazon.com.