Overly Botoxed Babes? 10 Celebrities With Frozen Faces!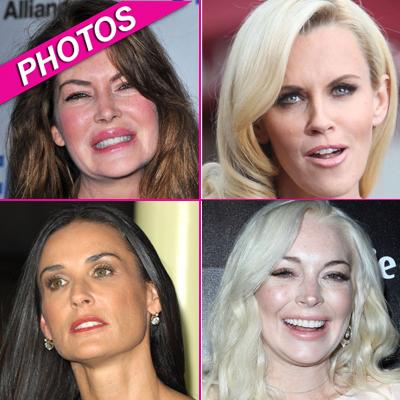 Wrinkle-free is one thing, but some Hollywood stars have a tendency to overdo it when it comes to Botox!
From young Hollywood's hottest stars to plastic surgery veterans, a bevy of celebrities have spawned injection speculation, after showing off frozen and expressionless faces. While some have admitted to going under the needle and others have denied, denied, denied, RadarOnline.com has photos of ten stars who have appear to have taken Botox to the extreme.
Article continues below advertisement
Friend with a frozen forehead? Courteney Cox, who usually flaunts a totally seam-free face has admitted to using Botox "sparingly." "One time I did it too much, though," she revealed in the past. "I feel weird if I can't move my face, and that one time I overdid it, I felt trapped in my own skin."
The First Lady of France, Carla Bruni, has always been gorgeous, but the sexy singer recently got cosmetic surgery attention when she stepped out, showing off a wrinkle-free, frozen face.
You are never too young to get Botox when you are famous! While Heidi Montag has never been bashful about her Botox, Lindsay Lohan has yet to admit what most experts agree unanimously – she has gotten a few injections in her young years. And Megan Fox has gone to desperate lengths to prove that she hasn't gotten Botox either.
It's not natural to smile as wide as Lara Flynn Boyle, and have the rest of your face remain frozen! The Twin Peaks star has grabbed lots of attention for her changing face over the years, but it's impossible to deny that her flat forehead defies gravity.
Which other stars look like they have gotten too much Botox? Find out by clicking here.