Miss Piggy Reveals Her Beauty Secrets, 'I'm 99 Percent Botox!'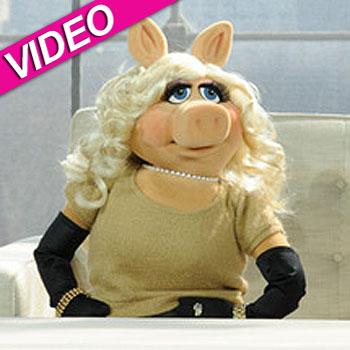 Article continues below advertisement
Her fellow guest on the show, CNN's Dr. Sanjay Gupta pointed out that the pink pint-sized star did boast a very immobile look, "That forehead doesn't move at all does it?" he asked.
"No it doesn't. There's hardly a single expression I can make on this face," confessed the actress and singer, who exuded glamour in a gold dress, pearls and long black gloves.
A concerned Cooper asked Gupta if so many injectables were safe from "a medical standpoint?"
"First of all Miss Piggy, you look beautiful," gushed Dr. Gupta. "You need absolutely no work whatsoever. I do think it is possible to go overboard when it comes to plastic surgery or even Botox.
"Botox is something that can be safe but one of the potential concerns if you use too much of it you can actually make your eyelids droop, you can cause headaches, you can cause other problems. Luckily it's temporary.
Article continues below advertisement
"She looks great though," he added.
Miss Piggy, also known as Piggy Lee, looked flattered by the compliment, although it was hard to tell her frozen face if she was smiling or not. While she has not admitted to ever having more invasive surgery, The Muppets star has been rumored to have had her snout softened with rhinoplasty, her ears pinned back, pig cheek implants and fillers.
The full interview airs on the new episode of Anderson on Thursday, March 15.
In the meantime, take a look at Miss Piggy's appearance on Anderson below: