VIDEO: 'The Muppets' Trailer Hits Theaters -- Watch It Here!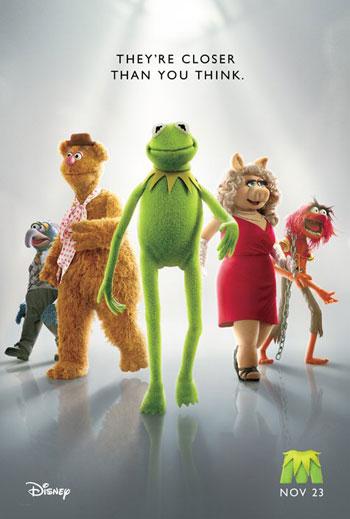 With all the news about Arnold & Maria, all the news about Oprah's farewell, and all the news about the American Idol and DWTS finales, a little frog by the name of Kermit nearly dropped under our RadarOnline.com -- NEARLY!
The trailer for the upcoming comedy The Muppets -- the eleventh movie to star Jim Henson's lovable creatures -- has now hit the web, and RadarOnline.com has it for you.
How I Met Your Mother's Jason Segal and Nick Stogall, the writer and director duo of the romantic comedy Forgetting Sarah Marshall wrote the new Muppet script.
Article continues below advertisement
Segal -- an unabashed Muppet fan -- also stars in the film, along with Oscar nominee Amy Adams.
Aside from the main cast, there are a number of cameo appearances by some big Hollywood stars.
Lady Gaga, Kathy Griffin, Billy Crystal, Whoopi Goldberg, Judd Hirsch, Selena Gomez, Mickey Rooney, Ben Stiller, Wanda Sykes, Alan Arkin, James Carville, and Jack Black all make cameos in The Muppets.
The plot centers on the world's three biggest Muppet fans who discover an oil man's plan to demolish the Muppet Theater and drill for oil. The three fans, plan a $10 million fund raiser to save the theater and recruit Kermit and the muppets for a show stopping performance.
The trailer for The Muppets was shown for the first time last weekend before the latest Pirates of the Caribbean movie.
Watch the video on RadarOnline.com
The Muppets opens on Thanksgiving.
BTW, here's a list of all the Muppet films:
The Muppet Movie (1979)
The Great Muppet Caper (1981)
The Muppets Take Manhattan (1984)
Sesame Street Presents Follow That Bird (1985)
The Muppet Christmas Carol (1992)
Muppet Treasure Island (1996)
Muppets from Space (1999)
The Adventures of Elmo in Grouchland (1999)
It's a Very Merry Muppet Christmas Movie (2002)
The Muppets' Wizard of Oz (2005)
The Muppets (2011)