Exclusive
'Human Barbie' Lives In A Fantasy World Because Her Reality Is Empty, Says Psychologist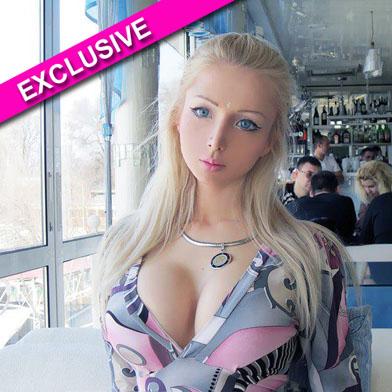 Article continues below advertisement
"The interview from V, as well as photos of the so-called beauty, suggest a woman who finds her authentic self and the reality around her to be empty and uninspiring, causing her to create and live in a fantasy world of her own making," Los Angeles psychologist Dr. Seth Meyers, who has not treated the model, told RadarOnline.com in an exclusive interview.
"Considering her from a strength-based approach, her efforts indicate an innovative and truly artistic orientation, where she uses her body as post-feminist performance art," he explained. "The problem, however, with such a perspective is that her ultra-contrived appearance caters exclusively to men's fantasies of tiny waistlines and enormous breasts in women.
"Because men can't find this fantasy in real life, pictures of the Human Barbie send these men flocking to the internet for a cybersexual experience that casts the real women in their lives aside because they simply can't – and shouldn't - measure up," Dr. Meyers told RadarOnline.com.
Along with her unstable emotional well-being, many are concerned over the drastic physical transformation Lukyanova has undergone with her face and body, which she adamantly denies is a result of plastic surgery.
Article continues below advertisement
"This is how they justify not wanting to strive for self-improvement," Valeria bit back at critics who claim she has gone under the knife too many times.
However, celebrity plastic surgeon Dr. Anthony Youn, who has not treated the Ukrainian native, doesn't believe that Lukyanova could look so different from her natural girl-next-door looks without some serious surgery intervention.
"The Human Barbie should be more accurately called the Human Avatar!" he told RadarOnline.com.
"Her face is impossibly sculpted and chiseled, as if made from a plastic mold. It appears to me that she's either wearing two pounds of fancy, special-effects makeup or has had some plastic surgery to reshape her eyes and her nose," Dr. Youn revealed.
"Her nose is as thin as a popsicle stick. As a board-certified plastic surgeon, I would love to see just how she came to look this way," he pondered.
For more scoop on celebrity plastic surgery, visit Dr. Youn's blog at CelebCosmeticSurgery.com, and pick up his eye-opening memoir, In Stitches, which is available on Amazon.com.