PHOTOS: Kate Middleton Is A Living Doll!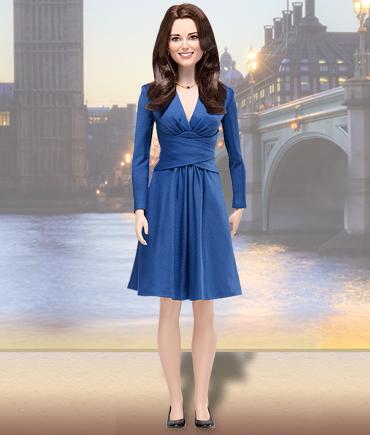 Move over Barbie! In celebration of the royal wedding, which is now just 50 days away, bride-to-be Kate Middleton has been given the ultimate honor of being transformed into a collectible doll.
The Franklin Royal Mint announced the 'Kate Middleton doll' on Wednesday and RadarOnline.com has photos of the Barbie-esque beauty.
Dressed in the royal blue Issa dress that Prince William's sweetheart wore when the couple announced their engagement last November, the plastic princess boasts Kate's signature long brown locks and glowing smile, and wears tiny replicas of her jewelry including her necklace, earrings, and engagement ring, all outfitted with simulated sapphires, diamonds, and other jewels.
Article continues below advertisement
Just like the classy lady herself, this is no cheap toy. Each limited edition 16-inch doll 'Portrait of a Princess' Kate Middleton doll costs $195 and only 5000 have been made, according to the Franklin Royal Mint website, and comes with a Certificate of Authenticity and a display stand.
According to the memorabilia site, which also sells royal coins, Princess Diana and Jackie Kennedy dolls, "Kate Middleton is living the dream every little girl holds dear...and every woman remembers with a smile...becoming a Princess.
"For the first time in over 350 years, a non-royal like one of us is beginning that journey for real. Celebrate this moment in history with the finest dolls in the world. Experience the thrill of her engagement by owning one of the most elegant and regal treasures in the world."
The site is taking pre-orders now, and shoppers have time to save up for the Kate Middleton Royal Wedding Doll, which will be released after the bride walks down the aisle on April 29th.