'Human Barbie' Flaunts Her Living Doll Looks In Her First Photo Shoot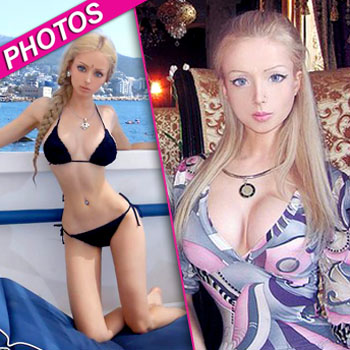 By Debbie Emery - RadarOnline.com Reporter
The 'Human Barbie' who became an Internet phenomenon after she morphed her body into a living doll through plastic surgery and artfully applied make-up is suddenly speaking out about why she believes "altering reality is the key to life."
Ukrainian model Valeria Lukyanova, 21, is showing off her unnaturally tiny waist, large breasts, porcelain doll-like face, and long, flowing blonde mane in a new photo shoot for V Magazine, where it is hard to tell whether she is real or fake.
Article continues below advertisement
Following speculation as to whether she is even human or a result of careful photo editing, Lukyanova proves she is in fact a living, breathing person despite her out-of-this-world beauty regime.
"In the morning I work on my face and I get a massage, then I spend some time on the Internet. I meditate and travel in my astral body, and after that I work out at the gym. I go for a walk with my best girlfriend, I get home, and I make dinner for the man I love," said the girl from the Moldavian city of Tiraspol, who calls herself "Amatue" after the goddess of the sun.
"Then I spend some more time on the Internet, do some reading and meditating, and go to bed."
When asked if she considers herself to be a singer, model or an artist, she described herself as "a teacher at the School of Out-of-Body Travel."
As expected, there has been an outpouring of negativity directed against Valeria over her controversial body image, but she claims she only basks in positivity and light. "If people care about me, then I am on the right path. In real life, I never hear bad things," she claimed.
Article continues below advertisement
"People don't understand that it has nothing to do with looks. There are many good-looking young women, but why are they completely unknown? Because looks are just a bonus. If you spend time working only on your appearance and you forget about your inner self, people will not be interested in you because they will not feel anything," she said.
"Many people think you need only good looks to be successful, but it's not true—only spiritual work can bear tangible results."