Anderson Cooper Tells Human Barbie: 'I Think You're Dreadful'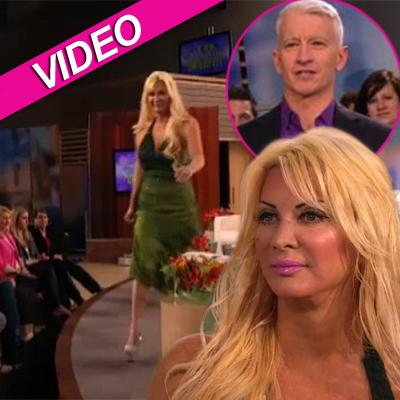 Anderson Cooper lost his cool Tuesday on his daytime talk show, as "he had to stop" an interview with Sarah Burge, the English plastic surgery enthusiast who's spent more than $500,000 on procedures for herself and is encouraging her 7-year-old daughter down a similar path.
Anderson asked Burge -- nicknamed "The Human Barbie" -- if she really gave her daughter a voucher for plastic surgery for when she turns 18, and if that was merely a publicity stunt.
Article continues below advertisement
"That's actually not quite the truth: That's where the sensational comes in with the press and it gets highly distorted," Burge said. "I've given her a voucher for if she so wishes to use it at the age of 18 … they're like a bond. It's a tax-free gift."
Asked again if the vouchers were aimed at getting publicity, Burge said, "I'm taking advantage of my trade: I'm an associate of many plastic surgery companies around the world and by doing that, I was in the position to actually give her the voucher."
At that point, Anderson had heard enough.
"I try to be really polite to all my guests," he told Burge. "I think you're dreadful and I honestly don't want to talk to you anymore."
Watch the video on RadarOnline.com
The journalist said in a Youtube video later on, "I regret having her on in the first place and I regret that that's how things ended."
Anderson said he felt Burge was there solely for publicity and not honest or forthright in her answers.
Still Anderson ended on a classy note, saying, "I wish her the best, I have no hard feelings."