Exclusive
Human Barbie Mom Is A 'Looney Tunes Fruitcake' Says Eden Wood's Mom!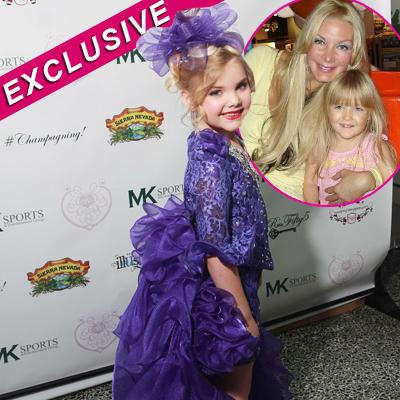 By Alexis Tereszcuk - Radar Entertainment Editor
The Human Barbie mom is not making any friends in the US, and if she thinks entering the child pageant world is going to be easy she'd better think twice!
The reigning supreme queen of child beauty pageants, Eden Wood, is the cutie patootie that everyone likes to pick on, but her mama is spitting mad about Human Barbie Sarah Burge's "publicity stunt," to make herself and her daughter Poppy famous.
Article continues below advertisement
"She is a Looney Tunes fruitcake," Mickie Wood exclusively told RadarOnline.com. "What is wrong with her?"
51-year-old Sarah has released a series of shocking photos where she's posing in provocative outfits with her 7-year-old daughter, and in one they're both topless and only have crime scene tape wrapped around their chests.
"What could you possibly get by putting your daughter in that kind of outfit? She must be doing this as a publicity stunt because I can't imagine any mother actually wanting to do that to their child."
Little Eden, who is starring in her own reality show called Eden's World, dons risqué outfits for her pageants, but nothing like the British ladies seem to be posing in.
"If Christ came down for the second coming Eden would get a bad rap," her mother said. "People would say she couldn't go to heaven because she does pageants, but this woman is ridiculous with what she's doing to her child."
As for saying she's bringing her daughter to a pageant in Atlanta, Georgia, Mickie warns her about breaking into the child beauty pageants state side.
Article continues below advertisement