What A Boob! Miami Mom With LLL Breasts Wants More Surgery To Make Them World's Largest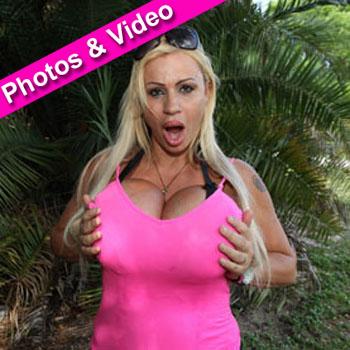 A Miami mother -- whose breasts are now LLL and weigh a staggering 21 pounds -- wants to go even larger so that she can capture the record for the world's largest boobs!
Lacey Wildd -- a 44-year-old model and mother-of-six -- has already had 12 breast implant surgeries. Right now, she has the seventh largest breasts in the world, and she's already planning her next surgery for 2013 to boost her cup size to MMM.
Article continues below advertisement
Wildd, whose real name is Paula Simonds, says she's proud to be plastic, despite the fact that she's had to have an internal bra made of pigskin and her own muscle implanted into her torso to support the weights of her breasts.
Although her kids are understandably embarrassed by their mom, Wildd insists that she's doing it for them. "I started all this so I can give them a better life," Wildd told the Sun Sentinel.
"My boobs are my paycheck. Go big or go home is my motto.
"I am proud to be plastic."
Wildd says she's determined to go under the knife once again in her drive to capture the record of being the woman with the world's largest breasts. "If I have triple M implants it will take me into the top five big breasted models in the world," said Ms Wildd. "There is a top five and then everybody else is below that.
Article continues below advertisement
"It will increase my fame and earning power considerably. I want to make the most of this opportunity, to give my kids a good lifestyle."
Wildd has already made big sacrifices due to her supersized breasts: she can no longer exercise or even pick up her youngest daughter, 5-year-old Jenaveve.
In addition, she's forced to sleep on her side hugging a pillow because the weight of the implants is too heavy on her chest and she cannot have mammograms, instead having to rely on sonograms.
Wildd -- who grew up in Illinois -- was once a thin, brunette waitress who became a mother in her late teens.
"I wasn't making as much money as the blonde girls with the big boobs. I had two kids to take care of on my own," she explained.
She says she saved up her tips to pay for her first implant at the age 21 when she went from an A cup to a D.
"That was the day that changed my life. It gave me a lot more confidence. The way people noticed me. People wanted to be around me. I turned myself into a Barbie," she told the Sentinel.
Article continues below advertisement
She eventually moved to Las Vegas, where she worked as a showgirl. Over the years, she's has 12 breast enlargements, as well as tummy tucks, bottom implants and silicone implants in her lips.
Her kids are worried the MMM implants will cause awful side-effects such as stretching, tearing, or even an infection that might kill her.
"I don't want my mom to have her boobs made any bigger," said her 17-year-old daughter Tori.
"I think she isn't really thinking about our opinions. What if she dies? Is she taking that into consideration?
"Does she really care that her kids could be left alone?"
But the buxom beauty, who recently split from long-term boyfriend Manny, promises to be careful.
She says she's preparing her skin for the larger implants to avoid the risks of rupturing and will take every care to avoid dangerous staph infections.
Article continues below advertisement
"I've stopped wearing a bra, so my skin has time to stretch," she said.
"I'm also trying to lose weight, and I went on a diet of liquid, vitamin B12 shots and apples for a while," she added.
"I know that the surgery is going to be dangerous," she said. "I went into this knowing that there are going to be very big risks involved. But I'm ready to take that chance."
Watch the video on RadarOnline.com
Wildd had developed into a media sensation since appearing last year on MTV's True Life series in an episode called "I Have a Hot Mom" with her teenage daughter.
PHOTOS Bikini Wars! Stars With Big Boobs Vs. Stars With Small Boobs
She's since appeared on Dr. Phil, Dr. Drew and ABC's 20/20 for an episode called "Going to Extremes." Later this month, World News Japan plans to tell her story.
She's able to afford her many surgeries through donations from fans who have given her thousands of dollars online.
If she does do ahead with the procedure, her new MMM implants will set a record for the world's largest breasts -- a title currently held by 164XXX Chelsea Charms.