Pressure To Be Perfect? Celebrity Spawn Rumored To Have Gone Under The Knife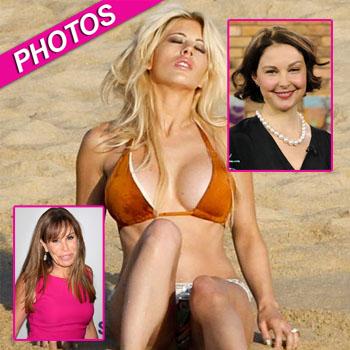 With all the perfect bodies and flawless faces, it's not easy growing up in the middle of Hollywood's most beautiful families!
Whether mom and dad achieved their fame from blockbuster movies or the Billboard charts, these children of Hollywood's rich and famous were raised in the most exclusive inner circles with cameras snapping their photos everywhere they went, so it isn't shocking that were also exposed to the hottest plastic surgeons in the biz. RadarOnline.com has photos of 10 celebrity spawns -- some of whom went on to achieve their own personal fame -- who have been rumored to have gone under the knife.
Article continues below advertisement
Lorenzo Lamas was one of the hottest soap stars of the 1980s, so The Bachelor fans took notice when his blonde daughter Shayne was cast in season 12 of the hit show. After winning the final rose from Matt Grant and calling off their engagement, the gorgeous blonde found love with The Dirty's Nik Richie and soon got herself a new set of knockers.
Billy Joel and his Uptown Girl Christie Brinkley may not have been able to make their marriage work, but they did have a child together. Less than 6 months after her rumored suicide attempt in December 2009, Joel was not bashful about announcing that she had gone under the knife and gotten a new nose.
Joan Rivers is one of plastic surgery's biggest advocates, so it isn't surprising that her daughter, Melissa, who has followed in her career footsteps, has also taken her lead when it comes to cosmetic procedures.
What do Nicole Richie and Kate Hudson have in common? Both the sexy celebrity spawns amped up their assets in the past few years, and though neither have copped to their boob jobs, the proof is in pictures of their bikini bodies.
What other celebrity spawns are rumored to have gone under the knife? Find out by clicking here.