Get A Little Work Done? Stars Rumored To Have Gone Under The Knife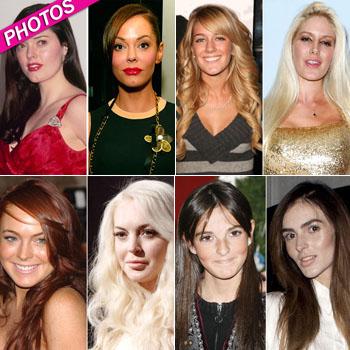 Article continues below advertisement
Is Nicole Kidman a real life Benjamin Button, or did she get a little help from a doctor? The Aussie actress has copped to trying Botox in the past, but it appears as though her face has dramatically transformed since her early years of fame, making it hard to believe that the wrinkle-freezing injections are her only means of anti-aging.
It's hard getting older in Hollywood! For several years, Kim Basinger, was one of the sexiest big screen bombshells of the 1980s and 1990s, and has faced plastic surgery speculation with her puffed up cheeks and youthful look.
Sister surgery? Both Lindsay Lohan and her little sis Ali have been accused of changing their profiles with plastic surgery.
It's no secret that Heidi Montag and Janice Dickinson are lovers of plastic surgery, with both the reality star and the former supermodel admitting to having multiple procedures.
And Twin Peaks star Lara Flynn Boyle was one of the most beautiful stars of her time, but a decade and several reported surgeries later, she looks nothing like she did in her heyday.