Plastic Surgery Disasters And Triumphs For Stars Over 50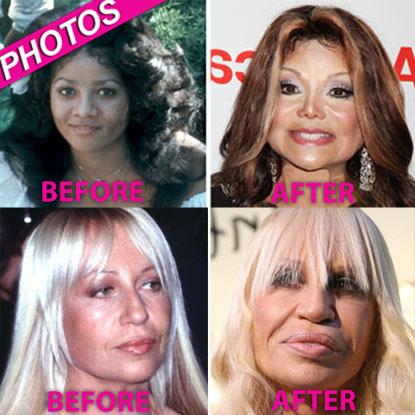 It's hard to get older in the public eye!
From sexy singers and reality stars to big screen bombshells, these Hollywood stars get older in the public eye, so it isn't surprising that they go to extremes in hopes of maintaining their youthful looks. RadarOnline.com brought you photos of stars in their 30s and 40s who have gone under the knife, and now we have photos of 10 stars in their 50s who are rumored to have gotten plastic surgery.
Article continues below advertisement
At 54-years-old, Melanie Griffith looks nothing like her younger self. The Working Girl star, who has been gracing the screen since she was just a teenager, is rumored to have undergone multiple cosmetic surgery procedures over the years.
From natural beauty to plastic disaster! 51-year-old Daryl Hannah looks nothing like she did during her Splash era, appearing to have made more than one visit to the plastic surgeon's office.
57-year-old Donatella Versace clearly thinks that plastic surgery is in fashion! The Italian designer has drastically transformed her face and body over the years in shocking style.
Not every star who goes under the knife is happy with their work. Dirty Dancing darling Jennifer Grey has admitted that she regrets her decision to get plastic surgery done, and that it negatively affected her career.
What other stars in their 50s have gone under the knife? Find out by clicking here.