Nicole Kidman Admits To Trying Botox But Swears Her Current Frozen Forehead Is Natural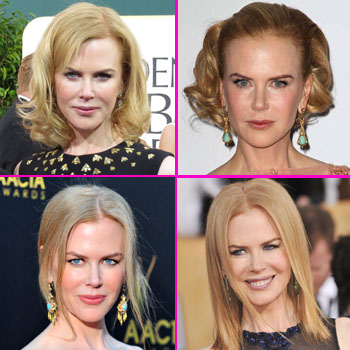 Nicole Kidman's recent frozen-looking forehead has been raising Botox eyebrows, but the Academy Award winning actress insists that she is totally natural!
In a new interview with Italian newspaper La Repubblica, the 45-year-old, who doesn't have a wrinkle on her face, cops to getting Botox in the past but swears that her days of injections are long over and her current look was achieved by wearing sunscreen and taking care of herself – and RadarOnline.com has the details.
Article continues below advertisement
"No surgery for me," Nicole insists in the interview.
"I did try Botox, unfortunately, but I got out of it and now I can finally move my face again."
Kidman, who described the decision to get Botox as an "unfortunate move," and swears that she is "completely natural," raised eyebrows in recent months during promotions for her movie The Paperboy, showing off an incredibly frozen forehead.
"I wear sunscreen, I don't smoke and I take care of myself, and I am proud to say that," she continued. "Anybody can do anything to themselves – I don't judge – but personally I believe in being physically fit. That's how I was raised."