Botox Beauties? 10 Stars With Suspiciously Frozen Foreheads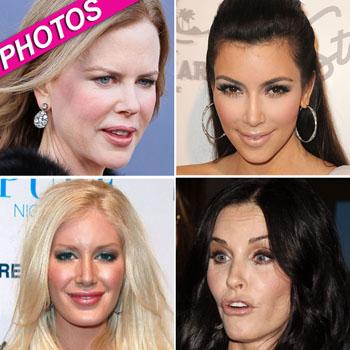 Their lips and eyes may move, but not their foreheads!
Whether or not they cop to it, Hollywood's hottest stars are no strangers to the magic of Botox, getting temporarily rid of wrinkles with the magic injectable. From big screen bombshells to the hottest reality vixens, RadarOnline.com has photos of 10 stars with suspiciously frozen foreheads.
Nicole Kidman has copped to trying Botox, but the Australian beauty claiming she wasn't a fan. "I didn't like how my face looked afterwards," she told TV Movie. "Now I don't use it anymore -- and I can move my forehead again!" Years later, Nicole still can't seem to move her forehead.
Article continues below advertisement
Kim Kardashian got injected with Botox on an episode of Keeping Up with the Kardashians, and although the reality star claimed that she regret the decision, her forehead has remained suspiciously frozen ever since.
Lara Flynn Boyle is clearly no stranger to the plastic surgeon's office! The Twin Peaks star appears to have a fully injected forehead of Botox, as well as several other procedures done to her face.
And Marie Osmond and Joan Rivers keep getting older, but their foreheads remain totally flat. While Joan has never been bashful about her Botox, Osmond has remained tight lipped, but experts maintain that the beauty has gotten more than a few injections.
How does one avoid the frozen forehead scenario?
"Too often, people think that more looks better," Dr. Garo Kassabian exclusively dished to RadarOnline.com about over-injected foreheads. "With Botox and fillers, the key is to start off doing it little by little so that it looks more natural and allows for you to have your natural facial expressions."